Saturday October 10, 2015

- Just when we thought we were on top of things, the vicious and human tissue-devouring Ebola Virus Disease shows another side - the tendency to remain in the body as UK nurse Pauline Cafferkey is re-admitted in an isolation ward. Condition stated to be very serious. Let us pray for her and our people who recovered.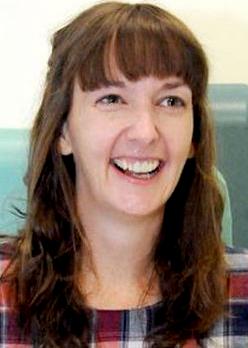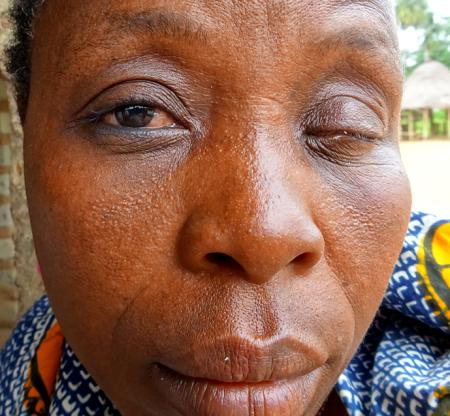 We are worried, very worried that the Ebola Virus Disease has again told the world of health specialists that it is an infection that is not that easy to beat even if it fails to kill its victim. That it is so difficult to get rid of - that if you do not see it in the blood of the recovered, its long arms of destruction is busy spreading out into other tissues and organs to create difficulties for those who survived.
This is the BBC's story that broke many hearts -
"A Scottish nurse who contracted Ebola in Sierra Leone last year is in a "serious condition" after being readmitted to an isolation unit in London. NHS Greater Glasgow and Clyde confirmed that the virus is still present in Pauline Cafferkey's body after being left over from the original infection. She is not thought to be contagious.
The 39-year-old has been flown back to the isolation unit at the Royal Free Hospital in London. Bodily tissues can harbour the Ebola infection months after the person appears to have fully recovered.
Ms Cafferkey, from Cambuslang in South Lanarkshire, spent almost a month in the unit at the beginning of the year after contracting the virus in December 2014. NHS Greater Glasgow and Clyde (NHSGGC) said she had been admitted to the Queen Elizabeth University Hospital in Glasgow on Tuesday after feeling unwell and was treated in its infectious diseases unit. She was then transferred to the Royal Free Hospital in the early hours of Friday morning due to an "unusual late complication" in her illness.
Dr Emilia Crighton, NHSGGC director of public health, said: "Pauline's condition is a complication of a previous infection with the Ebola virus. The risk to the public is very low. In line with normal procedures in cases such as this, we have identified a small number of close contacts of Pauline's that we will be following up as a precaution." Government sources have described her transfer to the specialist unit as a "highly precautionary process".
Truth be told - although the good nurse's recovery had been touted as one of the success stories against the Ebola Virus Disease, she has always made it clear in interviews that she did not just feel right, though she could not pinpoint the source of her worries but to any keen observer, it was quite obvious that there was something with recovering from the disease.
An example. This is what she's reported to have said when she was first declared free of the disease as she was discharged from hospital -""I am just happy to be alive," she said. "I still don't feel 100 per cent, I feel quite weak, but I'm looking forward to going home."
As we pray for the full return to health of this brave nurse, we cannot help but remind ourselves of the challenges that we face in own country Sierra Leone and the fate of thousands who had survived the ravages of the disease. We would again want to remind health delivery personnel - nurses, doctors, porters, drivers and the desk people at the Ministry of Health and the Ebola Response setup of what needs to be done to protect and care for the survivors who still remain abandoned and uncared for in Sierra Leone.
We would again like to remind the international community that it needs to do more to help Sierra Leone whose health delivery leaders including the rat at State House see the Ebola Virus Disease epidemic as another money-making machine whose product should line the pockets of individual as was clearly exposed in the report by the Auditor General. Despite these revelations no one was held to account even though the report made it clear those who should be made to account. The Anti Corruption Commissioner, one Joseph Fitzgerald Kamara did nothing and left the matter untouched preferring to chase the unconnected and the poor. One beast of no nation, calling himself the Majority Leader in Parliament, one RASS-in Bundu usurped the powers of the Anti Corruption Commissioner quite forgetting or ignoring the fact that he the RASS-in Bundu was subjected to the provisions of the Anti Corruption Act of 2008.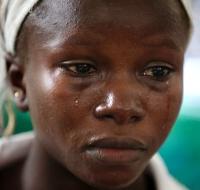 We had in the past warned against using the Ebola recovered victims as a propaganda tool, with recovered victims held in holding centres until the rat can find the time to go and present them with certificates that they have recovered from the disease. We raised the issue again when a woman declared as the last survivor had to wait until the birthday day of Sierra Leone's greatest constitutional manipulator, one Siaka Probyn Stevens' birthday to be presented with a certificate by the rat.
Yes, Adama Sankoh had to wait until 24th August. Here's how one source reported the rather sickening and sordid-looking affair - Sierra Leone released its last known Ebola patient, 35 year-old Adama Sankoh, on Monday 24 August 2015 from the Mateneh Ebola Treatment Centre in Makeni, in the northern Bombali District.
"This is the beginning of the end of Ebola in Sierra Leone," said President Ernest Bai Koroma at the discharge ceremony, cautioning the crowd not to be complacent but to continue being vigilant and focus "as we have 42 more days to go," the President added.
Giving the vote of thanks, Adama called on all citizens to continue to observe health measures of hand washing and safe burial. She said that although she had lost a son, she is happy to be alive today, to be part of the many others who had survived the disease. She appealed to the president to continue to support survivors as "we have no idea on how to start life again," she said.
Alhaji Moijueh Kaikai, the Minister of Social Welfare, Gender and Children's Affairs, whose ministry is responsible for providing and coordinating support to survivors from government and donors, handed over the discharge pack to Adama. It contained matrasses, household utensils and a purse of Le300, 000 ($55). The discharge and certification ceremony was attended by cabinet ministers, senior government officials, development partners, traditional leaders, journalists and stakeholders of the Bombali and Tonkolili Districts." Imagine!!!
The plight of recovered Ebola Virus Disease Pauline Cafferkey should send alarm bells down the corridors of the Ministry of Health in Freetown. That there's the need to monitor and support all those who have recovered from the disease and are living in Sierra Leone. It is now quite evident that much remains to be known about the after effects of this vicious disease - that when it fails to snuff out the life of victims, it still leaves them with debilitating conditions as the virus continues to invade and hide in other tissues and organs after migrating from the blood.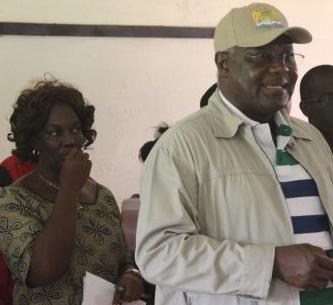 Let us again remind you of what the rat is reported to have promised survivors in this piece from the State House website (excerpts) headlined As Ebola Clocks 1 Year…President Pledges To Support Survivors - "While expressing gratitude to Ebola survivors for their resilience, President Koroma also commended the Ministry of Social Welfare, Gender and Children's Affairs for what he referred to as proactiveness in planning programmes for survivors.
Prior to the Ebola outbreak, President Koroma said his government had meant well for the country when it introduced the free health care initiative. He reminded that whosoever holds a certificate of Ebola survival will equally benefit from the free health care services and will be treated with whatever illness he or she may suffer from gratis.
Yusufu Kabba of the Sierra Leone Association of Ebola Survivors described the meeting with President Koroma as a special moment. He said they are receiving support from government through the Ministry of Social Welfare, Gender and Children's Affairs. He thanked government for providing free medical support to survivors, and expressed delight for livelihood support as they are always engaging their colleagues on abstinence as everybody wants to say goodbye to Ebola in Sierra Leone. Amongst them was Sierra Leone's first Ebola survivor Victoria Yillia who was declared Ebola free in June last year."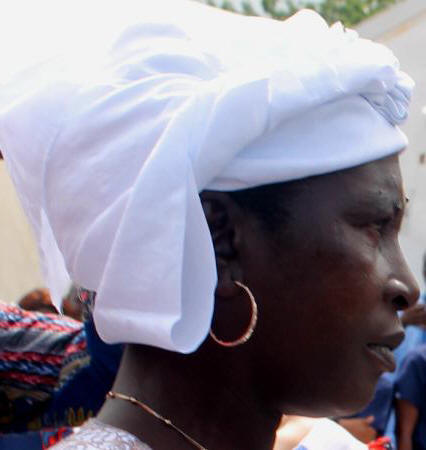 The question is - how much support are these survivors receiving in Sierra Leone? We are not only talking about Freetown and the main towns, but we are thinking o
Concerned journalists have been raising warning flags over what they see as the neglect of those who had survived the disease. Journalists who raised these expressions of concern were routinely labelled as unpatriotic by a system that believes that criticisms can only come from those considered as anti-government and anti-the rat.
That Pauline Cafferkey could succumb to the aftermath of being declared free of the disease should make us worried, very worried and for us to ask the Ministry of Health and indeed international partners that we need to set up units all over the country that would observe and take the right measures against the many medical complaints/problems associated with being declared clear of the disease.
A recent study carried out on the needs of Ebola Virus Disease survivors in Sierra Leone showed that health authorities needed to do more.
"Common themes that emerged were immediate and long-term concerns about physical and mental health, stigma, psychosocial issues, reintegration needs, and financial needs.
Survivors reported health problems; the most common symptoms reported were blurred or partial loss of vision, dizziness, headache, sleeplessness, and myalgia.
Survivors who reported physical health issues after recovery expressed interest in receiving medical attention specific to reported post-Ebola health issues. Survivors also raised concerns regarding psychosocial issues (e.g., stigma and shame that prevents reintegration into their community, as well as survivor guilt) and financial burden.
Many Ebola survivors had most of their belongings burnt or taken away as part of infection control, including their clothing and household goods.
Many reported being shunned by the community and had difficulty accessing shops to purchase replacement goods.
Survivors emphasized the critical need for comprehensive discharge counseling and the provision of a packet of materials, including clothing and cash for transportation, as well as facilitation of reentry into the community by professional psychosocial support counselors.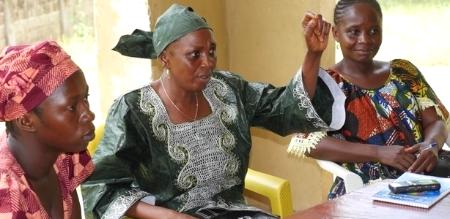 Survivors showed great interest in contributing to the Ebola response through activities like sharing their stories directly with their community, with Ebola patients currently receiving care, or with a larger audience through radio and other broadcast media.
They also expressed interest in participating in Ebola care and treatment support and direct care, and providing moral support to other Ebola patients to give them hope.
Many indicated that supporting themselves with this work would help restore their own dignity.
Upon completion of the assessment, findings were shared with select district-level Emergency Operations Center staff and partners involved in the response to improve and coordinate the survivor services.
To address commonly reported sequelae of Ebola, the nongovernmental organization Sight Savers (http://www.sightsavers.org) is piloting the provision of free eye examinations and treatment for survivors with vision problems in select districts. The services will be rolled out nationally in the coming months.
The Sierra Leone Ebola Emergency Operations Psychosocial Consortium also is coordinating partners and districts to improve the initial and ongoing psychosocial support for survivors...a comprehensive survivor packet has been designed to ensure the consistent provision of resources to survivors upon discharge. The packet includes a mattress, bed sheets, a blanket, a towel, a pillow, a water bucket, a cell phone, utensils, a cooking pot, laundry soap, bar soap, a toothbrush and toothpaste, a mosquito net, a set of clean clothes and under garments, plastic sandals, food, cash, condoms, and multivitamins."
Is anyone listening?
---