Sunday January 25, 2014

- UK nurse laid low by the Ebola Virus Disease has recovered. Fully. Pauline Cafferkey tells the BBC that she is very happy to be alive. She had given up hope at one point as she waited for the inevitable. Welcome back to the world of the living Pauline.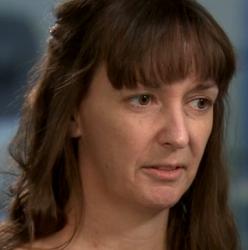 The first person to be confirmed as an Ebola patient in the United Kingdom has fully recovered.
UK nurse Pauline Cafferkey admitted in her first broadcast interview with the BBC that she had felt like giving up the fight after her defence system was ravaged and savaged by the unrelenting beast known as the Ebola Virus Disease that wanted to claim her life. We give thanks to the Good Lord that the medical team that was with her never gave up and continued the fight as she hung on doggedly to dear life. Indeed many who had been following her case as she lay in the UK treatment facility had quite some nervous moments when after reports that she was doing well and coping things appeared to have been turned on its head with fresh reports saying that she was critical.
Many have heard that ominous statement before; many were led to believe that it was another lost battle as had been the case for those whose condition had been described as critical while receiving treatment, be it abroad or in Sierra Leone.
As the BBC reminds us, Pauline is the second UK citizen to recover from the ravages of the vicious killer disease, the first being William Pooley who after his recovery and the hours of pain and anxiety before coming out safely gave an impression of not wanting to ever get near anywhere the disease was present, especially Sierra Leone. But that was not to be for as he himself had stated, he had seen people succumb to the disease and knew what it was like after his ordeal - and indeed went back to Sierra Leone where he's now helping in the battle against the devious and vicious killer disease.
The BBC has this on Pauline - "Speaking after being discharged from the Royal Free Hospital, in London, Ms Cafferkey, from Cambuslang, in South Lanarkshire, thanked staff who she said had saved her life. "I am just happy to be alive. I still don't feel 100%, I feel quite weak, but I'm looking forward to going home," she added. Ms Cafferkey - who had volunteered with Save the Children at a treatment centre in Kerry Town, in Sierra Leone - was diagnosed with Ebola on 29 December, after returning to Glasgow via London. Her temperature was tested seven times before she flew from Heathrow to Glasgow and she was cleared to travel, before later falling ill.
She was placed in an isolation unit at Glasgow's Gartnavel Hospital after becoming feverish, before being transferred by a RAF Hercules plane to London on 30 December. She was then transferred to the specialist isolation unit at the Royal Free, where she has been treated since. Speaking to BBC health correspondent Branwen Jeffreys, she said: "My first few days I was very well - I just couldn't understand all the fuss."
Ms Cafferkey travelled to Sierra Leone with a group of NHS workers in November last year However, she said she was "definitely frightened" having witnesses the virus first hand in Sierra Leone.
"Obviously at the back of my mind I had seen what could happen and what could potentially happen to me." After three or four days Ms Cafferkey said her condition began to deteriorate, with the hospital announcing she had become critically ill on 4 January. Asked if there was a point she felt she would not make it, Ms Cafferkey said: "There was a point, which I remember clearly. I do remember saying: 'That's it, I've had enough'."
She said she had "no sense of time" in hospital and cannot remember an entire week when the virus took hold. She said she received letters and cards from people around the world, including people in Sierra Leone and from other nurses who wrote to say she made them proud of their profession.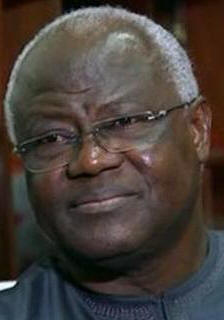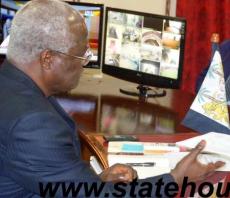 Asked if she wanted to return to Sierra Leone, she said: "I would have to think seriously about it. I am definitely going to give aid work a break for a while. "I just want to go back to my normal job, my normal life and I think my family will be happy with that as well."
Dr Michael Jacobs, from the hospital's infectious diseases team, said Ms Cafferkey had now completely recovered and was "not infectious in any way". He said Ms Cafferkey was treated with blood plasma from an Ebola survivor and an experimental treatment drug closely related drug to ZMapp, which UK nurse Will Pooley was treated with after he contracted Ebola.
The experiences of UK nurse Pauline Cafferkey and Sierra Leonean entrepreneur Junietta Ayodele Macauley again highlight the importance of early diagnosis and immediate treatment once confirmed and here we have to once more call on all those involved in helping to combat the menace that equipment for conducting tests be up to standard and more importantly manned by trained and selfless personnel who are dedicated to the work at hand - defeating the killer disease.
Here again we must remind ourselves about the case of Dr Martin Salia who felt unwell, tested and was found negative. A few days later, knowing how he was feeling, he again submitted himself to a test and this time was proved positive for the virus. It was from there, we believe that the battle for the life of one of our good doctors started with the virus already getting a grip on his immune system and the delay in getting him out of the country for treatment in the United States added to the extremely vigorous killer virus getting a stranglehold so that by the time he was flown out of the country, he was practically gone to the great beyond - with vital organs like the kidneys already gone.
Recent figures put out by the authorities in Sierra Leone appear to indicate a slowing down of the rate of infection and while this may be good news, we would urge that true figures be published so that those engaged in the fight would gear themselves up for what appears to be a lull in the battle against the disease.
This is the time where contact tracing, testing and treatment should be our priority and reports made as transparently as possible for we fear that political considerations by some ill-disposed persons would witness the concealment of the afflicted and with that the rise of secret burials too. The lack of transparency and the confusion that reigns over the cause of death of many in especially the capital Freetown and parts of the north of the country contributed in no small measure to the rise in new cases as well as deaths attributed directly or indirectly to the Ebola Virus Disease.
Kindly allow us to remind you of the observation of the World Health Organisation on why overcrowded and health delivery challenged Freetown the capital became the new epicentre -
"The first confirmed case in Freetown was reported to WHO on 23 June. Cases in Freetown and the adjacent district of Port Loko initially rose slowly, with patients transferred to Kenema for treatment. Throughout July and August, Kailahun and Kenema remained the districts with the most intense virus transmission, and cases there continued to occur at an alarming rate. On 6 August, the President declared a national state of emergency, with quarantines, enforced by the military, imposed on the areas and households hardest hit. Also in August, the government passed a law imposing a jail sentence of up to two years on anyone found to be hiding a patient.

At the end of that month, the country reported a cumulative total of 1,026 cases, compared with 648 in Guinea and 1,378 in Liberia. But the real surge in cases began in September as the virus gained a foothold in Freetown. Teams were soon struggling to bury as many as 30 bodies per day. As the situation rapidly worsened, South Africa deployed a mobile laboratory to Freetown and work began to construct Ebola treatment centres, as Kenema's treatment capacity was quickly overwhelmed.
By the third week of September, the situation had begun to stabilize in Kailahun and Kenema, but Freetown, Port Loko, Bombali, and Tonkolili districts showed a sharp and alarming spike in a situation described by WHO as "continuing to deteriorate". Nationwide, WHO estimated that more than 530 additional treatment beds were needed.
The biggest challenges in the densely populated capital were limited treatment and diagnostic facilities and the difficulty of undertaking contact tracing. In parts of Freetown, as many as three families occupied the same household in shifts, increasing even further the risks of disease spread within these families.
In early October in Port Loko, no treatment beds were available in any health care facilities. At one health facility, nurses had no personal protective equipment, no food, and no rehydration fluid. WHO organized the transportation of suspected cases to treatment facilities and provided a supply of essential medicines and equipment, but these did not last long as cases continued to mount and the demand continued to overwhelm existing capacities. By mid-October, WHO described virus transmission in Freetown and the western districts as "rampant", with more than 400 new suspected cases being reported each week.
All administrative districts nationwide had reported at least one case. The impression of stability in Kailahun and Kenema was temporarily lost as cases once again began to rise. In Freetown, the government and its partners recognized an increasingly urgent, almost desperate situation.
On 21 October, the World Food Programme used its unparalleled logistical capacities, supported by funding from the World Bank, to airlift 20 ambulances and 10 mortuary pickup trucks to Freetown to support the government's efforts to shorten response times. An additional 44 vehicles followed a few weeks later by sea. This support was in addition to the delivery, by that date, of food to more than 300,000 Ebola-affected people nationwide.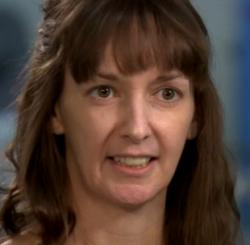 We would urge that care be taken lest we get caught out by the disease again. The recent announcement by the rat that travel restrictions are to be lifted, trading in some parts resumed and schools to get ready for re-opening though sounding good has to be treated with caution.
The Ebola virus is very treacherous and should it rear its head in areas thought to be safe, then we would be in for the long haul and care must be exercised lest we become complacent.
"We are still in a very, very dangerous situation with this virus," WHO's Bruce Aylward said. "Especially now... that we are heading into the rainy season very, very soon. "That's going to hit us in April, May, and that will make the response that much more complicated."
The warning echoed an assurance by Mr Koroma that the crisis would not be considered over until all three countries had seen no new cases for 42 days. The relaxation nevertheless marks huge progress against an epidemic which has seen commerce all but grind to a halt, with restrictions on movement halting crop harvests and sparking warnings of a looming food crisis. The president said the travel bans on almost 3 million people would be removed on Friday, while restrictions would be eased on Saturday trading hours in the hard-hit Western Area, which includes the capital Freetown. Sierra Leone is targeting zero new cases by March 31 of the deadly tropical fever that has killed about 9,000 West Africans over the past year, according to official data - although the real toll is thought to be significantly higher."
We could not agree more and the decision to reopen schools must be taken with all caution as we suspect that deep within certain inaccessible villages could be a lurking virus ready to pounce on the unwary.
Given the manner in which figures are reported with political leaders manipulating the figures to suit certain hidden motives, we would again urge caution. We would urge all and sundry to be very careful and to be truthful reminding all of us again that pretending that all is well when we know that there could well be unreported cases will not augur well for all of us.
When the Ebola Virus Disease appears to get wiped out, be wary as it has the tendency to reappear as was witnessed in Uganda.