THE APC MANIFESTO PRESENTED TO THE PEOPLE IN 2007
"Africa's history over the last fifty years has been blighted by two areas of weakness. These have been capacity - the ability to design and deliver policies; and accountability - how well a state answers to its people. Improvements in both are first and foremost the responsibility of African countries and people...." Africa Report
---
"The press, radio and television and other agencies of the mass media shall at all times be free to uphold the fundamental objectives contained in this Constitution and highlight the responsibility and accountability of the Government to the people." - Sierra Leone Constitution
Sunday April 20, 2014

- He is risen. The very basis, the root of Christianity is celebrated as we celebrate Christ's victory over death, giving all of us hope that salvation is ours to cherish and enjoy as well as respect. That in all we do He is the one and only true God, no matter what you perceive Him to be.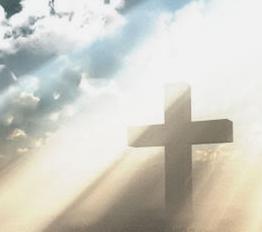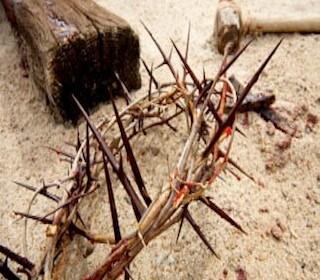 It is that time of the year again. A time when we are reminded of the basis of Christianity, a time to celebrate Christ's victory over death, a time to reflect on the past forty eight hours as the Good Lord was persecuted, tortured and made to undergo the horrifying ordeal of crucifixion .This was a form of execution that was meant to demean and dehumanise the one to be executed. It was one that was meant to cause maximum pain and suffering so terrible that death, when it overcame the victim on cross, would be a welcome relief from the pain, the excruciating pain that such a form of execution was meant to do as well as sending a message to those who dare oppose the beliefs and system then - that this was what awaits all those who refuse to fall in line. As we celebrate Easter, let us, each in his or her own way reflect on the pain and suffering Christ had to endure that others may live. Let us reflect on the horrors of the kangaroo courts that declared Him guilty even before He was put on trial and let us remember the words of the centurion, a Roman military officer who's seen many years of Roman campaigns in the battle to expand the empire and who, having seen it all exclaimed - "Truly this was a son of God."
One commentator has noted - Easter means everything to the Christian person. Easter is the celebration of the Resurrection of Jesus, our Lord and Saviour. God sent His son to earth to die as a sacrifice for all or our sins. Jesus died on the cross to forgive everybody for all the sins they have committed. Jesus' blood covered every person from the beginning of time and to the end of the world. He died for all of our sins. On the third day (Easter), Jesus conquered death, and rose from the grave. Jesus is the only God who has ever Risen from the grave.
Another states that - The meaning of Easter is Jesus Christ's victory over death. His resurrection symbolizes the eternal life that is granted to all who believe in Him. The meaning of Easter also symbolizes the complete verification of all that Jesus preached and taught during His three-year ministry. If He had not risen from the dead, if He had merely died and not been resurrected, He would have been considered just another teacher or Rabbi. However, His resurrection changed all that and gave final and irrefutable proof that He was really the Son of God and that He had conquered death once and for all.
Happy Easter and may the Risen Lord in His mercy guide and protect you and your loved ones from the greed, selfishness and corruption of this world.
Happy Easter.
---
Sunday April 20, 2014

- If there's too much smoke, too much hype from any of the hirelings of the rat at State House, then there's more than meets the eyes. And we would dare to suggest that the custodial sentences handed out quite recently is selective punishment, not justice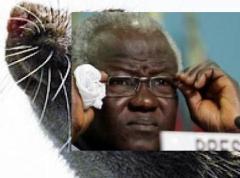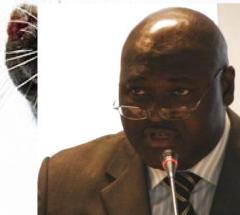 A page on the website of Sierra Leone's Anti Corruption Commission headed by one of the hirelings of the rat nestled at State House has a Press Release proclaiming - "High Court hands down custodial sentences on NRA/ECO bank officials for corruption offences." And the press release goes on to state that it was a landmark decision in the case of the State vs Solomon Hindolo Katta and others in that apart from the fines those found guilty in the court presided over by one Justice Paul had to pay, it would seem that for the first time somebody is being sent to jail apart from a fine.
What we are really puzzled about in this matter is why this should be seen as a landmark judgement in a country where the rat proclaims zero tolerance for corruption. Now here's the juicy if not weird aspect of it all - the charges. The Press Release on the Anti Corruption Commission website states - "All five were convicted for offences including Conspiracy to Commit a Corruption Offence, Misappropriation of Public Revenue, Possession of Unexplained Wealth and Failure to Fully Declare Assets to the Commission, all contrary to the Anti Corruption Act 2008."
Imagine this, if you will. The provisions of the stated Act had been there since 2008 and yet when one reads the various government-oiled "news outlets" one may be forgiven for thinking that it is only now that the Anti Corruption Commission boss Kamara has taken time off to carefully peruse the document in full and becoming aware of the provisions therein. We have in the past brought the various offences to the attention of our readers so that they too can see that if the Anti Corruption boss and his paymaster at State House were really interested in clamping down on corruption, then many wrong doers and would be followers and beneficiaries would have been quaking in their boots/half-backs. How about the number of private residences and other buildings attributed to the handiwork of his master at State House? Dare he ask the rat about his unexplained wealth?
And last but not the least - what about all those cases the conclusion of which he stated he would be appealing. What happened to those appeals? Were they submitted to the courts? Has he forgotten this - "The suspended Boss of the National Revenue Authority, Alieu Sesay, Samuel Cole, Franklyn Pratt, Gloria Gabisi and Fatmata Ojubarra Sesay were acquitted and discharged on all fifty seven counts of corruption offences. The Trial Judge held that the Prosecution had failed to establish that the 1st Accused, Alieu Sesay conspired with his Co- Accused. The Judge also believed that the Prosecution had failed to prove that the 1st, 2nd, 3rd and 4th Accused acted in collusion with regards to the award of the various contracts."
---
Tuesday February 25, 2014

- Save the Children releases new report on ending newborn deaths as well as ensuring every baby survives. It is a crucial report which puts the spotlight on maternal and child health picture throughout the world. The report is not only critical of health delivery systems, but offers a way out for governments that have fared badly on the scales as Save the Children reveals that "O

ne Million Babies Die Globally on the First Day of Their Life"

.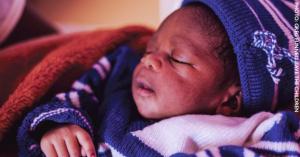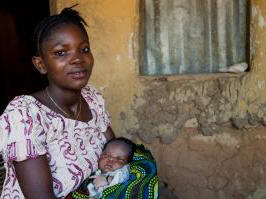 The Children's Advocacy group, Save the Children has issued a report that clearly puts the spotlight on why, for example, Africa has scored so badly with specific examples that should guide government on how best they should go about saving the lives of mothers as well as the newborn on a continent beset by many problems. In a statement issued by Save the Children, the organisation notes - "The new report, "Ending Newborn Deaths," shows one half of first day deaths around the world could be prevented if the mother and baby had access to free health care and a skilled midwife. The children's aid agency says the deaths happen because of premature birth and complications during birth, such as prolonged labour, pre-eclampsia and infection, which can be avoided if quality health experts are present. The research also found an additional 1.2 million babies are stillborn each year, their heartbeats stopping during labour because of childbirth complications, maternal infections and hypertension. In a bid to save millions of newborn lives, Save the Children has called on world leaders to commit in 2014 to a blueprint for change – The Five Point Newborn Promise – which focuses on training and equipping enough skilled health workers to make sure no baby is born without proper help, and removing fees for all pregnancy and birth services.
In a part of the report titled - "Ten countries with the highest rates of first-day deaths and stillbirths during labour" Sierra Leone has been ranked near the top of this group after Pakistan and Nigeria - a clear indication that more needs to be done in this direction by backing words and intentions with real action on the ground. We were impressed to hear today's report from Freetown, Sierra Leone's capital that things appear to be improving as narrated by the BBC's Umaru Fofana when he visited the Ola During Children's Hospital where mothers says they were not being charged or harassed for fees and other needed support services. We hope that this was not a show for the BBC reporter and that the same could now be said of the many health delivery systems in the country.
---
Wednesday February 19, 2014

- Human Rights Watch slams London Mining in report out today. A new 96-page report throws light on a number of issues relating to the company's operations and its treatment and relationships with workers, traditional authority, labour unions and that Bumbuna protest in which Musu Conteh was murdered by a Sierra Leone police armed with weapons of war. "Sierra Leonean authorities should also meaningfully address longstanding human rights problems such as corruption, opaque governance, unrestrained security forces, lack of clarity in land ownership, and abuses of authority by powerful local chiefs."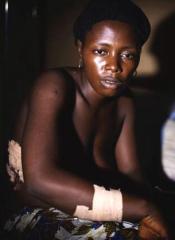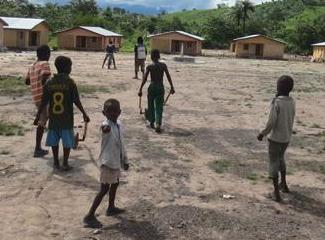 According to Human Rights Watch, The 96-page report, "Whose Development?: Human Rights Abuses in Sierra Leone's Mining Boom," documents how the government and London-based African Minerals Limited forcibly relocated hundreds of families from verdant slopes to a flat, arid area in Tonkolili District. As a result, residents lost their ability to cultivate crops and engage in income generating activities that once sustained them. Police carried out a bloody crackdown in the town of Bumbuna in April 2012 to quell a protest by workers who went on strike after being barred from forming a union of their own choosing.
The report's author Rona Peligal, deputy Africa director at Human Rights Watch insists that "the African Minerals Limited case shows that, unless the government puts a stop to mining operation abuses, the people who most need to benefit from development will be excluded from it."
Human Rights Watch slammed the government for what the organisation sees as a deliberate ploy by it to please extractive companies rather than the people whose resources were being exploited - "The government also did not take action in response to apparent African Minerals Limited violations of Sierra Leone labor laws concerning employment, termination, and benefits for its workers. The government's narrow reading of national labor law as well as political wrangling denied the company's workers the ability to form a union of their choosing, rather than belong to an established union that the workers regarded as ineffectual." For its part London Mining has provided answers to questions raised by Human Rights Watch. It is a written response and we would not be wrong in assuming that it was a well-thought-out document that provided answers to questions the government should have been asking of the company rather than having a rights group taking up matters on behalf of the disadvantaged people of Sierra Leone whose natural resources are being depleted all the time. Kindly read through the African Minerals answers and you decide what picture we have here in one of the many extractive concerns that operate in Sierra Leone...and ah yes, they were asked about the shooting incident in Bumbuna in which Musu Conteh was murdered.
---
Wednesday February 5, 2014

- Sierra Leonean lives on the cheap - the land where "investors" are encouraged by an uncaring and corrupt government to get away with anything including murder as the forces of law and order become slaves to the whims and caprices of the vultures at State House.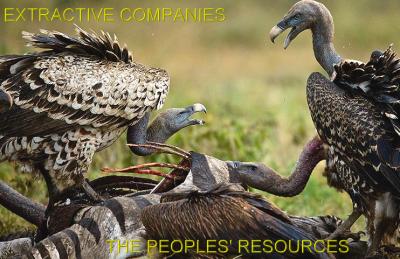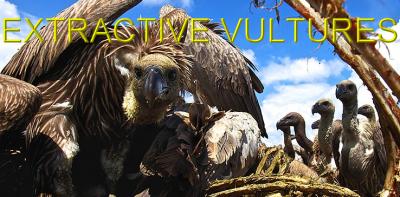 Some time in late December last year, we started getting reports of a boat incident involving one of our local sea transportation vessels known as pampa. Initially the death toll from that incident was reported to be in the region of five, but as the hours progressed, it became obvious that far more Sierra Leoneans could have lost their lives. Caring national newspapers wanting to alert the government of the rat immediately started running stories with the main thread being that the local sea craft was in collision with a boat controlled by one of the many "investors" now operating in Sierra Leone and who would want us to believe that they do care for the people of Sierra Leone. We are quite sure that if those lives were British, Australian, American or nationals from any democratic and caring government, they would be requesting a full investigation into the matter.
Kindly recall that on Tuesday September 8, 2009 a boat travelling from Shenge to Tombo was involved in an incident in which more than two hundred lives, including those of school children coming back from holidays and getting ready for the reopening of schools, were lost. Up to this time, the exact number of people on the boat has not been verified nor the exact number of those who perished.
On the "investors" getting away with murder remember Bumbuna and how the rat's security forces reacted after the murder of poor Musu Conteh -"The police marched behind the women and physically and emotionally intimidated them thereby disrespecting the women's secret society. According to them, the police were raining the worst forms of verbal insults saying they will ''fire gunshot into the sexual organs of the women'' and "vaginate" their new weapons. The women reported that they were traumatized because the police operation reminded them of the rebel war. "It was like any rebel attack", the women repeatedly said. "Due to this incident, our memories of the nineties were recalled when the rebels attacked here in 1994. All what we saw on that day [of the police operation in Bumbuna] can be compared to what we went through during the war. We were worried to imagine we were going to lose all we have worked for a second time. We even thought it was another war."
---

Monday February 3, 2014

- Accounting for the country's resources - an anathema for the government of the rat where simple arithmetic becomes a complex equation aimed at covering the tracks of charlatans bent on taking the country down the road to infamy - never mind the "re-branding" mantra.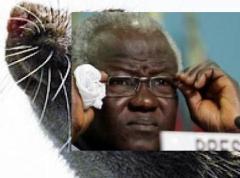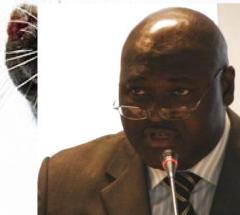 We have waited, we have watched, we have tried to figure out why since the audit of government accounts for 2012 was made public, none of the sewer rats extolling the virtues of the King Rat and who see no wrong in his manipulation of Parliament and the Judiciary, have commented on the massive thieving going on in the affairs of state. We can only come to the very painful conclusion that since they are all beneficiaries of the thieving machine, they dare not make a squeak in that direction lest they lose their part of the loot. Rather than tell their overlords that the thieving would in the end lead the country to the same state that the country would never want to tread again, the pay-as-you-go writers, refuse to acknowledge that the massive thieving now going on could lead to one and only one thing - the disintegration of community, region and state with dire consequences for all innocent Sierra Leoneans who continue to suffer in silence and are not a part of the state resources plundering machine oiled and kept running from the heart of State House itself. You would think it is the God-given right of King Rat and his caboodle to steal, steal and steal. That they are not accountable to anyone not even their conscience, assuming there's any left in the pool of moral bankruptcy in which they swim exposing their ill-gotten wealth. The reckless spending of the peoples' resources and wealth highlighted in audit reports, like this AUDITOR GENERAL'S REPORT ON THE ACTIVITIES OF OVERSEAS MISSIONS AND HIGH COMMISSIONS FOR THE PERIOD 1ST JANUARY 2003 TO 31ST DECEMBER 2010 and the failure to hold those responsible to account shows all too clearly that the smoke and mirrors State House occupant does not care about such reports and so it was with quite some interest when we heard that he was trying to make good on Sierra Leone's suspension from the Extractive Industries Transparency Initiative. Why the suspension? Again the government and the various functionaries simply cannot figure out their basic arithmetic and this from a rat who once headed an insurance body that did simple and somehow complex sums that determined just how much the insured should pay on a monthly or yearly basis or whatever time reference in question. In the EITI all that is being asked for is transparency and some honesty in reporting what is paid into government coffers by the various industries - and this is not confined to mining alone as oil blocks sales and allied fields appear to be yielding more money into the coffers (read thieving paws of the rat of a President). On the website of EITI there's an interesting report for Wednesday January 22 with the headline - "Big jump in revenues from Sierra Leone's extractives sector" with the sweetener that "revenues are up by almost four times but remain a small part of the economy".
SMOKE AND MIRRORS OCCUPANT OF STATE HOUSE GOES BERSERK - SEES MORE THAN RED IN JOURNALISTS WHO REFUSE TO BOW DOWN AND WORSHIP AT HIS ALTAR OF UNBRIDLED CORRUPTION, FALSEHOOD, CHICANERY AND SHEER INCOMPETENCE.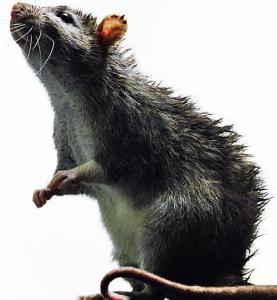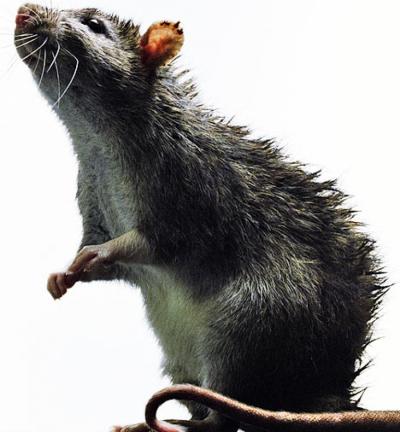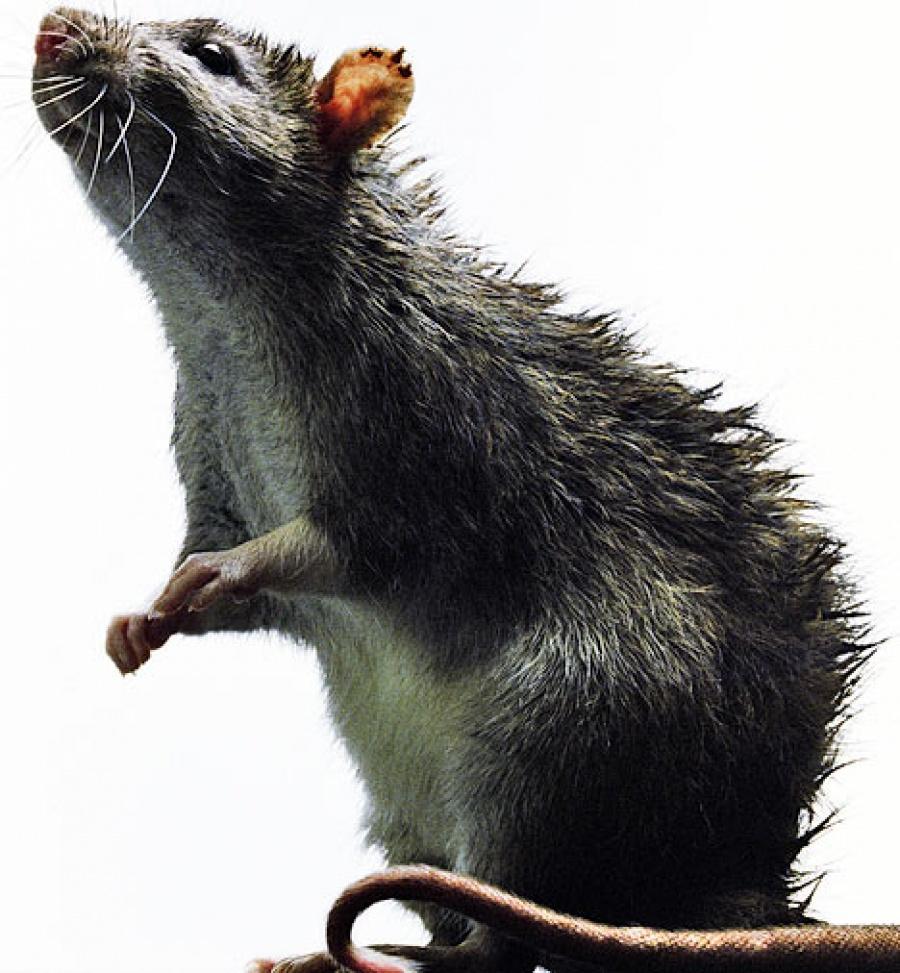 The intriguing story of journalists detained, harassed, arrested and molested - and all because a self-styled monarch in a republic called Sierra Leone Republic alleges he is compared to a rat. If it squeaks like a rat, sniffs the air for deals of any nature and smells of massive corruption, then its a rat - rattus rattus. Photo: Ariogbo
---
Wednesday October 12, 2011

- The truth is finally out. Now we know why the high priest at the altar of falsehood, profanities and indecency dedicated to the smoke and mirrors President expunged those articles from his web site reaffirming once more that for a few dollars more he would be willing to lie on oath in order to earn his supper. And this from a so-called man of the cloth who has been caught out more often than not - lying to his face and feeling good about it.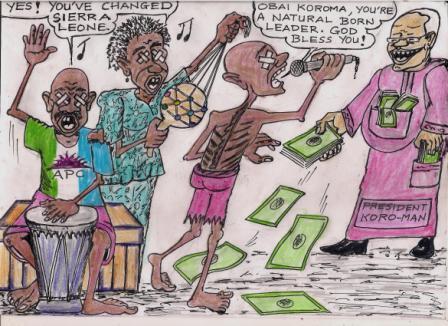 We now know why those articles were expunged from the web site of the high priest who thinks nothing of lying through his teeth to please his masters at State House in Freetown. Remember what he wrote about the Bo incident in which one man was reported killed by the police, some structures belonging to the APC ruling party torched and the flag bearer of the main opposition SLPP Brigadier (Rtd) Julius Maada Bio got hurt? The pro-APC, pro_Ernest Bai Koroma publications had a field day with each tabloid trying to outdo the other in presenting a feel-good article that would be pleasing to their paymaster/s at State House. It was a time to write articles pleasing to their handlers at State House. And please recall too that when the President ordered an investigation, we pleaded that no comment be made that would somehow appear to blame anyone? This piece of advice given in good faith was ignored and just to please his master, his mammon at State House the high priest at the altar of lies, falsehood and profanities dedicated to his god ernest bai koroma published articles blaming people left, right and centre as well as here, there and everywhere and even going as far as to suggest that there was no one at the APC party office in Bo on that day? Well we now have a copy of that report and we can state here that the reason why those articles were expunged was because the report showed that what had been published, as usual was a big and deliberate lie aimed at keeping his master happy. And pleasing his master we doubt very much because we know that there are good and honest people at State House, real professional journalists and civil servants who would always frown on anyone who on one hand gloats about a diplomatic appointment while on the other becoming the chief fabricator and purveyor of lies, more lies and damned lies.
Below are some of the headlines, the articles of which were expunged and for which action we demanded an explanation. None was forthcoming, none was expected. That is what happens when you, as we say "broke congosah" on the gossiping liar's head.
Reports : SLPP rally in Bo was unlawful and unauthorized and was recipe for chaos orchestrated by Maada Bio, John Benjamin and Abbass Bundu
Journalist says the chaos in Bo was well-planned by the SLPP
Where is the blood ? The biggest hoax since 'Janet Bundle' ?
Exclusive : How Maada Bio got hurt in Bo
EXCLUSIVE : More ringleaders of the Bo disturbances named, as SLPP forms clandestine organization to drive out all APC supporters
Among the key findings of the report after investigating the Bo incident was
1. The SLPP thank you rally was legal.
2. That Rtd Brigadier Julius Maada Bio was indeed wounded during the attack.
3. That the APC Office was occupied by APC supporters on the day of the attack and that even before then preparations had been made to attack the Maada Bio march in Bo with instructions given to women allied to the APC to collect stones.
4. Stoning was started by APC supporters from their party office.
5. The SLPP supporters attacked and torched structures of the APC.
6. One bike rider was shot and killed by a named policeman who still remains free.
We will now bring you most of the expunged articles so that you can see further proof of the devious methods of a compulsive liar and we daresay the typical "kongosah bench" carrier.
---