64 dead in Uganda blasts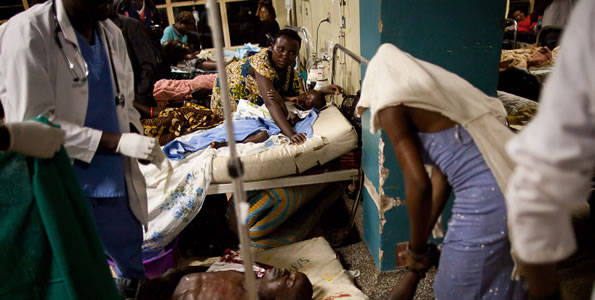 By NATION Team and AFP
Posted Monday, July 12 2010 at 07:13
Bomb explosions that tore through two bars in the Ugandan capital at the weekend left at least 64 people dead and wounded 65 others, a national police spokeswoman said Monday.
Three separate blasts went out in the Ugandan capital – Kampala as residents watched the 2010 World Cup final on giant screens.
Police said among the dead were foreigners. One blast went off at the Ethiopian Village Restaurant in Kabalagala, a Kampala suburb, while Daily Monitor reporters counted about 40 bodies at Kyaddondo rugby grounds where a huge crowd was watching the Spain Vs Netherlands Word Cup final.
Another blast was reported to have gone off in Ntinda, another Kampala suburb, as more than 100 were reported admitted in hospitals and clinics in the capital including the national referral hospital - Mulago.
An American national was among the dead, a US embassy official here said.
Police chief Kale Kayihura said the explosions could be linked to recent threats by Somalia's Al-Qaeda-inspired Shebab militia to countries that have sent troops to the African Union peace force there.
Uganda and Burundi are the only African countries to have deployed forces to the war-wracked Horn of African country.
Mr Kayihura said 67 people were admitted in hospital with serious injuries while 14 had been treated and discharged. Among the injured were six Americans.