Sunday March 23, 2014

- The remains of former President Ahmad Tejan Kabbah, the man who brought the peace Sierra Leone is now enjoying, is interred bringing down the curtains on seven days of national mourning declared by President Ernest Bai Koroma. Lessons from the dead and the living.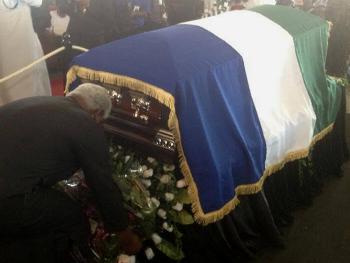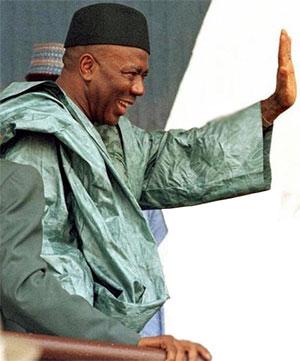 Many tributes have been and continue to be paid to the memory of the former occupant of State House, President Ahmad Tejan Kabbah on the announcement of his passing away on Thursday 13th March.
Most of the tributes paid homage to the late President's effort in trying to secure peace in a country ravaged and savaged by a war that appeared to be without end in sight.
Various factions, most with selfish interests, did their best to prolong the conflagration that engulfed a once-peaceful Sierra Leone after the first shots were fired in Bomaru in the east of the country on this date in 1991. And it is our fervent hope that as the late President's remains are interred on this day in March, that so will all those who plan evil for our beloved country will have their plans buried, never to rise again and make Sierra Leone a country associated with wanton destruction, murder, rape, arson, pillage and unbridled violence directed towards defenceless, unprotected and unarmed civilian population.
The peace Sierra Leone now enjoys could be appreciated from many facets. Take the case of travelling on our roads in those troubled times when reports of ambushes allegedly by rebels were so common. Death, abduction, rape and pillage was the common theme as vehicles and passengers were subjected to massive fire power from the enemies of the people, the rebels and the sobels who saw the continuation of the carnage as a money-making and wealth-gathering enterprise.
Indeed despite moves by the military to provide armed escorts for civilian vehicles in long convoys snaking through lonely roads, it was not uncommon to hear of these armed escorts coming under superior fire power from rebels who were sometimes seen in the colours of the national army, thus confirming what many civilians had believed all along - that the military had rogue elements within its ranks that tipped off the ambushers on the spoils available should they spring an ambush at well-defined and designated points on the road. However we should quickly add that not all soldiers were in on this though - those who genuinely believed they were providing a service to their compatriots fell or were gravely wounded and if they managed to survive, vowed never again to belong to an army that had become a part of the rebel cause of pillage, murder, abduction, enslavement and rape.
Taking a journey on any of our roads became a nightmare to the point that many refused to use any form of road transportation and staying put in their locations. Even so, they were not safe from the ravaging beast of destruction as they were sought out, killed, raped or abducted by a vengeful and sadistic band of animals in human form who saw rich pickings from the misery and loss of life of innocent Sierra Leoneans.
Who can forget the mindless violence that hit the capital on January 6, 1999 or events in other parts of the country before that infamous sacking of the capital where many who had fled the carnage in other parts of the country had come to seek refuge in the belief that the capital would be safe from the marauding bands of rapists. thieves and murderers? Who can forget the many who were abducted as the marauders of the so-called Peoples Army were driven from the capital? Who can forget the operation to torch the city when petrol and other flammable materials were used to douse property and persons trapped inside? Who can forget the murders, amputations, rapes and pillage carried out with glee by the AFRC/RUF coalition of evil during those troubled times?
So that is a part of the benefits of a peaceful Sierra Leone that was handed over to the present occupier of State House President Ernest Bai Koroma. And here we have to pay tribute to his determination not to get drawn into the evil ways of some key unrepentant members of his ruling party, the APC who would have been against anything that would give credit to the late President Ahmad Tejan Kabbah.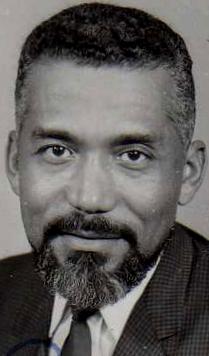 To these detractors and harbingers of hate, evil and desperation President Koroma's speech at the funeral was quite a slap and a message - that the evil and unrepentant old ways should be a thing of the past. In a rare moment he displayed what statesmanship should be - giving praise where it is due and paying respect to someone who through thick and thin brought peace which Sierra Leone now enjoys. The opening lines of his speech after the courtesies says it all -
"We are gathered here today to honour a man who truly deserves honour, His Excellency Alhaji Dr. Ahmad Tejan Kabbah, the first president of the second Republic of Sierra Leone. He was a great Sierra Leonean, a man who stood tall at critical moments of our country's recent history. In honouring him today, we are also identifying with his actions for peace during the civil war; we are also affirming his dedication to a democratic vision for this country; and we are commemorating his achievements as a political leader, as a high level international civil servant with the United Nations, and an international statesman leading elections observation missions all over Africa."
This is from a man who was the leader of the opposition at a certain time in the political history of Sierra Leone - at a time when the present ruling party came out of political hibernation and camouflage to re-assert itself once more as the APC party of old, never mind the unimpressive tag of "new APC".
However we have to admit that what is new about it all is that for the first time in the history of the APC, a former member and leader of the other opposition political party, the Sierra Leone Peoples Party, SLPP, is receiving due honours from a sitting APC Head of State.
That would never have happened in the Siaka Stevens era, the unforgiving tyrant who took his sword of vengeance to the remains of the late Albert Margai (former Prime Minister) and John Akar (one-time National Dance Troupe Director and Head of Radio Sierra Leone). We do know that there are within the APC such vengeful beasts who would have wanted President Koroma to act differently and not to say the good and respectful things he publicly uttered about the late President. Surviving relations of the late Sir Albert Margai and John Akar know only too well what they had to put up with when they requested that they be allowed to bring home the body of their loved ones for burial in the mother country.
There's a lesson here and a need to recall some events that occurred during the Presidency of the late President Ahmad Tejan Kabbah. It was under his rule that the wife of the then exiled former President Joseph Saidu Momoh - Mrs Hannah Momoh passed away while they were in Guinea. It was Ahmad Tejan Kabbah who provided the necessary security for President Momoh to come to Freetown to make the necessary funeral arrangements for his wife and the present Defence Minister, one Pallor Conteh used that opportunity to come into Sierra Leone to pay his respects too, never mind the immigration problems that he harvested from that act.
This part of President Koroma's speech put the icing on the cake
"A man who fulfilled his national destiny is worthy of great honour. Pa Kabbah persevered along the way to fulfilling this destiny: he lost his dear wife, but he reacted to this great loss as a man of faith and belief. I call upon all of us to mourn our late President with the faith he displayed when he lost his wife; with the dignity he showed when he lost his sons during his retirement. He was a man with a will of overcoming adversity. He exemplified it in both his public service and his private life, and I call upon all of us to emulate this courage as a tribute to his life's work. Pa Kabbah's positive demeanour must be entrenched amongst all who want to be part of a Sierra Leone that shall always honor his achievements, a Sierra Leone that is a beacon of perseverance, peace, democracy and development. A Sierra Leone that is on the verge of transformation."
Former Information and Communication minister I B Kargbo, now one of the many "advisers" to President Koroma gave an interview to the Voice of America radio -
"Kargbo says President Bai Koroma showed high respect for Tejan-Kabbah by the frequent visits he paid even before the former president became sick. He said another legacy of the late Sierra Leone leader is when he gracefully stepped down after serving two terms. "The constitution of Sierra Leone makes it very clear that the tenure for a president cannot exceed more two terms. And his second term he stepped down gracefully and in the process his party lost the election. But even at that he provided leadership during the transition period handing power to Dr. Ernest Bai Koroma," Kargbo said."
Indeed one of the enduring legacies of the late President was when his party gracefully handed over power to the opposition APC headed by one Ernest Bai Koroma and it is a fact that despite threats from Ernest Bai Koroma that he would not accept another victory by the SLPP, the government could have had its way instead of the wishes of the people, never mind the illegal ballot cancellations by one Christiana Thorpe.
One Solomon Berewa would have been Sierra Leone's President to succeed President Kabbah and this is not lost on many when in paying tribute to President Kabbah, Mr Solomon Berewa reminded people in not so many words that - Everyone has been talking that President Kabbah as a true democrat. That is nothing new. I know it - for if he had not been a democrat, respecting the wishes of the people, I would have been the President.
That for us - says it all and concretises the democratic credential of the President who brought peace to Sierra Leone.
Rest in peace President Ahmad Tejan Kabbah.
You have indeed fought the good fight.