WELCOME - YE HEARTLESS DEPRIVERS OF THE PEOPLE - WELCOME
TAKE A GOOD HARD LOOK AT THE ANIMAL REPRESENTING OUR GREAT COUNTRY SIERRA LEONE BEING DEVOURED BY THE VULTURES HEADED BY ERNEST BAI KOROMA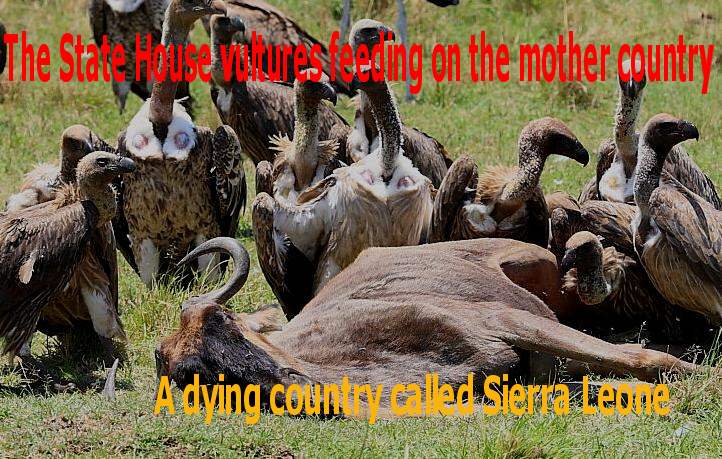 AFTER FIFTEEN YEARS IN THE COLD, WITH BLOODY MAWS TAKEN OFF THE NATION'S COFFERS, YOU'RE BACK UNREPENTANT AND UNCARING AS EVER BELIEVING THAT THE WORLD STOOD STILL WHILE YOU WERE OUT OF POWER, FORGETTING THAT BECAUSE SIERRA LEONE IS NO LONGER A ONE-PARTY STATE WAS THE VERY REASON A FORMER OPPOSITION PARTY IS NOW IN POWER!!!!!
FORGETTING TO TELL YOUR OFF-SPRINGS AND THEIRS HOW YOU BROUGHT THE MOTHER COUNTRY TO HER KNEES IN 24 YEARS (288 MONTHS) AND HOW YOU TURNED EVERY ESTABLISHED ORDER ON ITS HEAD MAKING THE COUNTRY NOT ONLY HELL ON EARTH, BUT IGNITING A WAR THAT HAS LEFT THE COUNTRY STILL TOTTERING ON THE BRINK OF COLLAPSE.
WELCOME BACK YE WHO PRAY EVERY SECOND OF YOUR MISERABLE LIVES ON THE ALTAR OF GREED, NEPOTISM, CRONYISM, DEPRIVATION AND MAKING A MOCKERY OF HONEST AND HARDWORKING SIERRA LEONEANS.
HEED THE WORDS OF KING HENRY V WHEN THE DAUPHIN OF FRANCE PRESENTED HIM WITH A GIFT OF TENNIS BALLS
For that I have laid by my majesty
And plodded like a man for working-days,
But I will rise there with so full a glory
That I will dazzle all the eyes of France,
Yea, strike the Dauphin blind to look on us.
And tell the pleasant prince this mock of his
Hath turn'd his balls to gun-stones; and his soul
Shall stand sore charged for the wasteful vengeance
That shall fly with them: for many a thousand widows
Shall this his mock mock out of their dear husbands;
Mock mothers from their sons, mock castles down;
And some are yet ungotten and unborn
That shall have cause to curse the Dauphin's scorn.