Mohammed Barrie, one of only five qualified paediatricians in the country and a participant alongside Unicef in Sierra Leone's child survival intervention programme, works in the diamond-rich province of Kono. Despite its resource wealth and with its war-torn past it is home to some of the country's poorest families and most vulnerable HIV-positive children, for whom Unicef is supplying cotrimoxazole, an anti-bacterial medicine used to boost their immune systems.
"I would say that out of the 100 pharmacies we have here in Kono as many as 98 are selling Unicef drugs illegally," he said.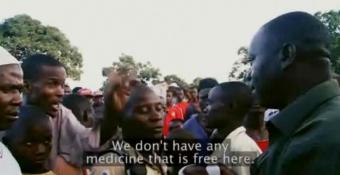 "It's a very serious problem because this (is) one of the country's poorest and most war-torn areas. Children from Kono are some of the most vulnerable in Sierra Leone."
In six out of seven pharmacies the programme-makers were able to buy bottles of Unicef-supplied cotrimoxazole, and when confronted some of the owners even admitted they had bought the drugs from government stores and hospitals.