Sunday October 9, 2011

- Another Sunday - no ordinary day for members of the Christian faith. It is a time when members meet in worship and fellowship, praying for the good of all mankind, for all humanity that the weaknesses which make life unpleasant for ordinary lives would be removed. It is also a time to consider certain key aspects of Christian living as it relates to the Ninth Commandment - "You shall not bear false witness against your neighbour" and neighbour does not just mean the folks next door.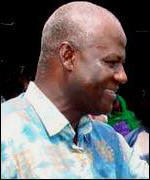 We have in the past couple of weeks urged

the high priest at the altar of profanities, falsehood and sexually explicit innuendoes and literature dedicated to his god ernest bai koroma to continue considering our previous suggested theme for his Sunday "sermons" - "Gluttony is a sin" and on this holy day we would again continue with a theme found in the Ninth Commandment which forbids true Christians, not to talk about those claiming to be pastors to be an example to others. The Ninth Commandment which forbids lying should be a central pillar in the activities of the true Christian. Here's what the Bible says about lying -

Proverbs 12:22 states - "Lying lips are abomination to the Lord: but they that deal truly are his delight"

Revelation 22:14-15 "Blessed are they that do his commandments, that they may have right to the tree of life, and may enter in through the gates into the city. For without are dogs, and sorcerers, and whoremongers, and murderers, and idolaters, and whosoever loveth and maketh a lie.

Kindly take a look at the links we have provided below and ask yourself why the stories have been expunged from the pages of a website that is run by a man who claims to a "pastor" an elder in Christian congregations. We have this line from one of the associates of the obese sow in heat who thinks nothing of dragging the names of good and respectable people, especially women into his morally-decadent and bankrupt, sewer-prone innuendoes only the brains of sewer rats of his type can manufacture. Here is what was written about him.
First of all, the Editor .......is not a social misfit but is a responsible and respected member of this New Jersey community ,who apart from being Associate Pastor of the AMERICAN FELLOWSHIP CHURCH of Lambertville, New Jersey, is also a respected school teacher and a journalist contributing so much to the socio-economic and political development of Sierra Leone - Foday Mansaray , Chairman of the Board
Remember we wrote some time back that what attracted us to this man claiming to be a man of the cloth was the profanities he poured on perceived enemies using language no member of the faith however irked would ever use in public, not to talk about publishing it on the internet. Despite using a number of false names/handles/monikers it was so easy to detect him as he moved from one internet forum to the next...and what raised our suspicion was that he would use these materials he and his type poured on these forums as the basis of "articles" in his online "news portals". We have again contacted the American Fellowship Church and the founder of the Church, the Rev T H Swenson in an email of yesterday 8th October has stated what has now brought out into the open the continued lies of a charlatan.
Dear Editor Sierra Herald:

Regarding your email about the behavior of xxxxxxx(satanic "rev"), we have no record of such a person. He is not an ordained minister in good standing with the American Fellowship Church. If he were and the behavior you indication were verified he would be defrocked at once.

Rev. T. H. Swenson
www.amfellow.org
Please be patient and read what the high priest wrote regarding the 9th September 2011 incident in Bo. His published story is dated September 10, 2011, a day after the alleged attack on the SLPP flag bearer Rtd Brigadier Julius Maada Bio. He was allegedly attacked by supporters of the ruling APC party. The headline, screaming for all to see was meant to show all and sundry that the Bo incident had been planned some 2 years ago by the main opposition party!!!! His opening sentences are a stark reminder of what ernest bai koroma's high priest is capable of doing to please his master -
"...the chaos in Bo yesterday was a well-planned and well-orchestrated ploy by the SLPP to gain sympathy from the international community. We have been warning Sierra Leoneans about this since two years ago that the SLPP , knowing how limited they are in human resources to challenge President Ernest Koroma 's popularity and achievements , will do everything to provoke violence and frame the ruling All People's Congress ( APC ) to involve the fickle International Community."
This is what he wrote which he does not want you to read again because he knew he was lying, as usual - Please click here for what he published then.
The story has now been expunged because as we stated below he could have been sent a copy of the report on the Bo incident by State House and, we suspect, advised to take that line of action as it exposes the high priest for what he truly is - a compulsive liar who can concoct anything to please man forsaking the rules of the Holy Bible especially the Ninth Commandment - "You shall not bear false witness against your neighbour" and neighbour does not just mean the folks next door.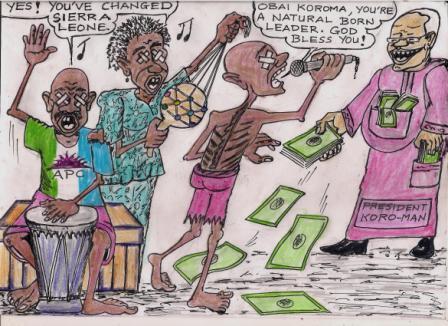 We again ask you to see where this link leads you. It should be to a page where, after Justice Bankole Thompson had presented his findings to President Ernest Bai Koroma in the wake of the violence at the headquarters of the main opposition SLPP in the capital, Freetown, his then Press Secretary and now Deputy Information minister, one Sheka Tarawallie tried to rubbish the report with the headline -
Realising that he had been caught out lying again he tried to expunge it, but we had the real thing and published what had been written.
Kindly note that in all the links of expunged articles - we have shown you what the internet states about materials that had been removed from where they had been.
Thus our dear patient reader - you now know how the high priest manufactures untruths, fabricates events and manipulates things just to have a go at women as a part of his tormented and demented state of mind and like the obese sow in heat that he is, will do anything for sexual gratification as witnessed by him taking on the name of Mariama Massaquoi, pretending to be woman so he could engage in sexually-explicit exchanges with a former ally who was convinced, at first, that it was a member of her own sex she was dealing with.
When she found out later, her anger could be barely controlled and published on the internet, a moderated piece on her discovery. As we had stated before.....we will never publish it here.