Sunday January 29, 2012

- Oh that they may have eyes to see, ears to hear and outlets to tell the truth, the whole truth and nothing but the truth. The rudderless boat of the "re-branders" of His Excellency Dr Ernest Bai Koroma, PhD, DSc, SSY, QTF (everything and anything), BA - Fourah Bay College (BA - Division 3 - Let my people go category).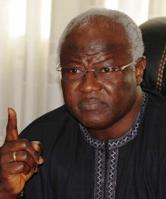 It was only a week ago when we advised His Excellency, the smoke and mirrors occupier of State House that there's a warning somewhere in the Good Book, the Bible - that God is not mocked and gave him one good example of how the man he admires so well, one Johnny Paul Koroma got tangled in that web of deceit as he attempted to use the name of the Most High as a smokescreen for lies, more lies and damned lies in the perpetration of evil.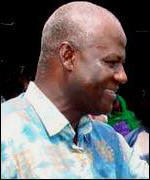 His Excellency failed to get the message or of he did decided like king Rehoboam of old, to listen to what came from the lips of the AFRC/RUF and other self-seeking ill-motivated minions, activists of his internet flying toilets and in the process ignoring the counsel of wiser heads that he walk the straight path. His satanic priest should know the story of Jeroboam and his son Rehoboam as found in Kings 1, part of which is quoted below.
".....and all the people came to Rehoboam the third day, as the king had appointed, saying, Come to me again the third day. And the king answered the people roughly, and forsook the old men's counsel that they gave him; And spake to them after the counsel of the young men, saying, My father made your yoke heavy, and I will add to your yoke: my father [also] chastised you with whips, but I will chastise you with scorpions."
And what did we read from the scroll of his new "media adviser" - that His Excellency, a man we are told is a Christian getting married to 100 women clad in white. Allow us to quote from the grovelling piece from the mind of his new media adviser -
"At State House about midday, January 25, 2012, there was a unique ceremony laden with symbolism that captured the essence and joy of being 'Sierra Leone an', and would be highly promotional of one of the most globally marketable character of our Sierra Leonean-ness – our religious tolerance: over one hundred women clad in pure white long flowing dresses and white headscarves from the Brookfield Central Mosque and the Old Railway Line Mosque in Freetown went through a symbolic 'marriage' to a fervent Christian, H.E. Ernest Bai Koroma, President of the Republic of Sierra Leone.
A calabash and mat, tied with white cloth – traditional symbols of marriage within nearly all the indigenous tribes in Sierra Leone – and a six year old girl (the 'little bride'), also clad from head to toe in Islamic white clothes, were handed over to President Koroma by the APC Women's Congress Leader to 'seal' the 'marriage' between President Koroma, a serious Christian, and the Islamic women, who pleaded with President Koroma to worship in their mosque.
President Koroma promised to worship in their mosque in his speech accepting the 100 'brides'. The still dashingly handsome President at 58 years of age said with a smile:
"Leh God put blessing pan di marrade" (Let God bless this marriage between me and the 100 women). There were chants of "Allahakbah" from the women!!"
We have quoted in full the excerpt that has attracted our attention, never mind the sickening lay-belleh-ism of the author. What else can you expect from his type?
Let's go back a little into our beautiful country's history.
In November 1985, we witnessed constitutional dove-tailing that enabled Sierra Leoneans hear a new President Joseph Saidu Momoh telling the nation that as from that date - Sierra Leoneans will no longer pick the crumbs from the table but will be seated at the table for the feast - their rightful place the nation was told.
And then in January 1986, a ceremony took place at the national stadium where President Momoh was presented with a woman in white who was to later become his wife - what happened to the later in question, we were never told.
And now - another Christian President has thought it fit - yes to "symbolically" marry 100 women in white. We do not have to dig too deeply to offer this explanation for this rather bizarre act.
Sierra Leone's Christian President - thought to belong to the Wesleyan Church of Sierra Leone - must have consulted with his soothsayers, augurs, marabouts, juju men or whatever and told - "You have to marry one hundred women all dressed in white as well as having that six year old girl."
We believe we have an idea about why that six year old was made a part of that satanic ritual and it does not look good.
We shall watch what happens to that poor girl in the coming days and we urge all those who saw that girl to monitor her fate.
We urge all child protection workers to monitor the fate of that six year old - for we fear for her safety and those who are a part of this satanic State House ritual know what we are talking about and should that girl be harmed, then all of those 100 women as well as the President and others in that satanic act must be brought to justice.
This is not a Christian, nor Muslim ceremony.
It is an elaborate and deceptive plan at worshipping at the altar of the devil.
Why was the ritual held at State House instead of one of the mosques mentioned?
This is devil worship at the heart of government - State House and should be condemned.
---