Sunday October 23, 2011

- Another Sunday and another day for Christians of true belief and understanding of what the faith is about to congregate in fellowship and to praise God, the Almighty for His mercies. It is also another day to remind the high priest at the altar of profanities, lies, sexually explicit innuendoes and falsehood dedicated to his god ernest bai koroma that there comes a day of reckoning when as we say "you cup full" even as today is declared day of liberation by Libyans who finally got rid of their tormentor. It is also a day of reflection...to think back and confess our sins - that we have left undone those good things which we ought to have done. And that is why we continue to pray that the high priest at the altar of profanities, falsehood and sexually explicit innuendoes dedicated to his god ernest bai koroma will in one of his "sermons" teach others on the theme "Gluttony is a sin".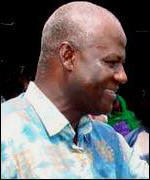 However again this week, we pray that he will continue to study and obey the Commandments as they are written in the Good Book, the Holy Bible - more so the Ninth Commandment which makes it a sin to tell lies, to fabricate lies, to be a purveyor of lies as this is frowned upon by the Good Lord whose 9th Commandment states - Thou shalt not bear false witness against thy neighbour. (Exodus 20:16). We again remind him that "neighbour" is not just the people next door. The situation, in his case, is made even more frightening if someone who professes to be a man of the cloth, an elder in God's house takes upon himself to become a compulsive liar and not only that but getting to a stage where he actually believes in his own lies despite evidence to the contrary hitting him in the face. But that is the hallmark of the compulsive liar!!! Again we would want to remind the high priest at the altar dedicated to the worship of ernest bai koroma what a former ally wrote about him after using manufactured and falsified remarks made on his own "forum" as "news" items in his online outlet which he would like to pass off as "news portal". This is a man who would want many to believe that he is a man of the cloth, a Christian who practices the faith until we took an interest in him and unmasked him as not belonging to a church where he had written he was an Associate Pastor. Kindly recall what a former ally wrote about him
"This XXXX man is a miscreant; a so-called Reverend who thrives on mischievously making up stories against other people he dislikes and labels it as journalism. The level of dirty tricks and low down games he has played against me personally and against other innocent citizens over the last few years via his paper and forum is stomach churning. If this miscreant is an example of a Christian Community Leader, then Christianity would have gone to the dogs... TO THE DOGS. Thank God, I know otherwise. This man does not remotely fit the description of a Community Leader let alone a Christian Man of God! XXXX is a satanic bundle of hatred. XXXX is a son of satan (SOS) masquerading as a pastor. This pornographic pastor spends all his time on this forum and has no time to study the scriptures. You care more about the details of female .......(details too graphic to put here). You delight in immorality. The Lord whom you mock, and whose name you blaspheme will punish you if you don't repent."
And to buttress just how this high priest, like an obese sow in heat will pander to literature that somehow sated his somewhat perverted nature, this is what he wrote on his own forum a while back when, you guessed it, topics of a sexual nature cropped up. He wrote
"The only thing I have not been able to accomplish is to pull down my weight....Anyway, CAD (a heart condition) need not be a death sentence. You can survive it like I did...Do not try to set a record in bed. You have nothing to prove any more...
If you have CAD, it does not affect your performance at all...."
That's your "priest", "pastor" at what he does best in an open internet gateway. He would invent anything including calling himself Mariama Massaquoi to entrap unwary females and engage them in unwholesome conversations of a sexually explicit nature. Here's what the Bible says about lying - and which we hope will form the basis for repentance.

Proverbs 13:5 states - "A righteous man hateth lying" - so the moment you lie, you are confessing to those who hear and to the Lord - I am not righteous.

Proverbs 12:22 states - "Lying lips are abomination to the Lord: but they that deal truly are his delight"

1 Timothy 4:1-2 states - "Now the Spirit speaketh expressly, that in the latter times some shall depart from the faith, giving heed to seducing spirits, and doctrines of devils, speaking lies in hypocrisy, having their own conscience seared with a hot iron" and we thought this from the Book of Revelations will help the rogue "pastor" think deeply and to forget about pleasing his god ernest bai koroma

Revelation 22:14-15 "Blessed are they that do his commandments, that they may have right to the tree of life, and may enter in through the gates into the city. For without are dogs, and sorcerers, and whoremongers, and murderers, and idolaters, and whosoever loveth and maketh a lie.
The admonition in the Revelation passage simply means that anyone professing to be a Christian should not only be seen to live a life worthy of the faith but must know that to enter the city of the faithful, lying should be a thing of the past. Continue to lie, continue to manufature falsehood and untruth and you will be left outside the gates of the city reserved for the faithful You will be left outside with your type - dogs, and sorcerers, and whoremongers, and murderers, and idolaters, and whosoever loveth and maketh a lie.
Are we missing something - we have noticed that the last sermon he did was on August 28....come on high priest...do something...this is Sunday October 23rd 2011.
---