RWANDA FOREIGN MINISTER ON AGGRESSIVE MEDIA CAMPAIGN
A LESSON IN HOW TO MANAGE THE IMAGE PROBLEMS OF A GOVERNMENT?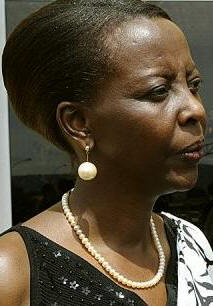 Rwanda's Foreign Minister Louise Mushikiwabo has been on a media blitz - to paint a picture of her government in a positive light as well as debunking accusations of murder, attempted murder and the repression of critics and critical opinions. She did this just before the polls on August 9th 2010 and was seen on the television screens of the BBC and other international broadcasters fielding questions covering all the issues critics of her government had been talking about - and she did not shy away from any of the questions - giving answers she deemed most appropriate as the situation and circumstances demanded. She was at the think tank Chatham House in London too to score whatever points she could manage about her government now headed by former guerrilla fighter Paul Kagame.
In one AFP report when asked about her government's crackdown on the press in the run-up to the polls she is quoted as saying that her government is "committed to free expression", but will not allow "hate media" to operate" leaving more explanations as to what defines the kind of hate media she had in mind. Her government had been linked to the assassination of one newspaper editor as well as the suspension of more than two dozen newspapers.
The woman believed to present some force in the opposition to the government within the country, Victoire Ingabire has not been allowed to register her party, the United Democratic Forces after she was accused of denying the 1994 genocide as well as having links with the FDLR the armed Hutu extremists now operating within in the DRC and other areas, largely blamed for the genocide of 1994 which claimed close to a million Tutsi and moderate Hutu lives.
She has been described by the Foreign Minister as "bad news for Rwanda"
A US human rights lawyer invited into the country as a member, if not the head of her defence team was himself arrested and jailed even though his matter was yet to be decided by the courts. His failing health could have been a factor that led to his release on condition that he would make himself available in Rwanda when his case is brought up again!!!!
In a report by the London-based Independent newspaper Victoire Ingabire has expressed alarm at what she sees as the international community's lack of attention to the human rights and other violation in Rwanda
"People say there's stability in Rwanda but this stability is based on repression," said Ms Ingabire. "We need stability based on freedom. "I don't understand how democratic countries can remain friends with a government that doesn't allow democracy. The democratic UK is supporting a dictatorship."
This statement has been re-echoed by analysts who insist that all the gains made by the Kagame government would unravel if remedial measures are not put in place that would engender true democracy in the country.
Foreign minister Louise Mushikiwabo brushes aside these accusations insisting that the Rwanda they are trying to build was one that defined everyone as Rwandese rather than seeing people as Hutu or Tutsi or any other ethnic group. Her President chimes in during election campaigns saying that what mattered was what Rwandans think and vote for and not what outsiders believe should be happening in what he says is a fragile state needing consolidation and unity.
She gave an interview to one online outlet on the government's repression of any dissident views
Q: Many human rights observers and opposition politicians say the government has gotten increasingly repressive in the run-up to the election. What's going on?

A: I think it is a mistake to think the government has gotten repressive because the elections are coming up. I think what has been happening is that political parties vying for positions, or trying to fund their candidates, have not been doing what they are supposed to do to fulfill their requirements, and are looking for an explanation. And the easiest explanation is that 'the incumbent is keeping me off the playing field.'

Specifically for Madame Ingabire's party, and actually herself and her party that exists in Holland and in Europe but not in Rwanda, we in the government find it so unusual that somebody who is trying to become a politician in Rwanda, and trying to achieve something, would come into the country with divisive rhetoric and downplaying the genocide.

This is my personal opinion, that she has no purpose of truly competing, but just to complain. She should make no mistake. For the foreseeable future, Rwanda will not allow any politician, political party, any individual, to tamper with the reconciliation and unity in Rwanda. That is one of the most important founding principles of the Constitution, and was discussed for many years, and Rwandans have decided that whatever they do, they will strive to be united and work towards reconciliation, which is a process. A long process. Neither her, nor anyone else will start dividing people and rewriting history.
In an interview on the BBC's Newsnight programme she told her questioner Emily Maitlis that her government welcomes political opposition - any opposition that is willing to move the country forward and bring all ethnic groups together as a united Rwanda. She did not deny that her government had closed down newspapers, but insisted that such outlets preached hate messages which Rwanda could not afford at this time.
On the Victoire Ingabire question she stated that "...she's a woman who's come to Rwanda after 16 years and would want us to go back to an era that we would rather forget about....what we would not welcome in Rwanda are people who preach the politics of ethnicity"
How successful the Foreign Minister has been in her mission would best be judged by those who heard and read about her tackling of the issues raised. Was she able to convince readers and listeners that Kagame is not such a demon?
It should be of interest to the so-called "re-branders" of the Ernest Bai Koroma AFRC Mk2 cabal to take some lessons from Rwanda. Both countries are coming from a conflict situation and both have, would you believe, women Foreign Ministers with Rwanda using the power of the tongue in engaging with the international media to put the Kagame government case to the world.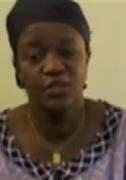 Rwanda has not used a multitude of dissemination outlets including the internet for the gushing out of lies, lies and more lies in an attempt to confuse and deceive.
No, the country has deployed its Foreign Minister to give the government's side of things and perhaps give a little positive shine to the government's image.
A lesson for Zainab Hawa Bangura?
Definitely and not in a campaign for rice the end product of which is used to enrich ministers of government and the President's brother!!!!