We may forgive but we must never forget
Author: Puawui - Dr. Sama Banya - Freetown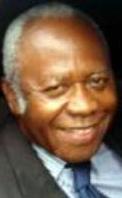 The above quotation was from Lord Russel of Liverpool who never believed that the Japanese deserved to be forgiven in the first place for their war crimes against the allies. When pressed hard he grudgingly wrote that we may forgive but that we must never forget. So it is with Charles Taylor, Foday Saybana Sankoh and the rest of the murderous mob who followed them and joined later by Johnny Paul Koroma and his gang of rapists, amputators and murderers. (Photo, Dr Sama Banya)
Today marks another sad anniversary of the inferno that engulfed the people of this friendly country by the action of a few selfish individuals. I recall my visit to Bomaru village in the Upper Bambara chiefdom of Kailahun district a week after the massacre of twelve people including a major and some personnel of the then RSLAF.
Two other villagers died while I was still there and the people urged me to leave at once because the atmosphere was charged with visible tension. Bomaru was my very strong hold during my parliamentary campaign days and with only a few exceptions the village almost voted en block for me. Before I left Pendembu for Bomaru that morning young lieutenant Tengbeh (he lost his life in conflict) informed that their unit had lost contact with the unit that was based in Koindu on the Guinea-Liberia border.
As usual people were fleeing from Pendembu in droves and as was usual even in those miserable circumstances they were being harassed by our soldiers. But the assault from Liberia did not begin in Bomaru but in a small village called Bandoma (meaning on the boundary) in the Kpombali section of Luawa chiefdom. It was Christmas eve, and most of the able bodied men and women had left for the weekly market day in the section headquarter town, Nyandehun. It turned out that renegade soldiers of Charles Taylor's army had entered the village and looted it of all available food stuff. No one was killed or injured.
The government of President Joseph Saidu Momoh sent relief supplies about a month later.
Going back to Bomaru, Liberia soldiers were in the habit of bringing looted goods across where there was an unofficial arrangement with some members of our armed forces stationed in Bomaru would receive and sell them on their behalf. I was told that sometimes the exchange was on credit basis. It would appear that a Major who was the main target of the invading soldiers had held the hand of his colleagues under water and the latter were having difficulty in collecting. They therefore entered Bomaru to settle scores.
The first civilian to be caught in the cross-fire Baindu John is still alive and in Bomaru.
As stated earlier it was a sad day for the inhabitants of the village but that day, March 23, was only the beginning for them and for the rest of the country.
Our President issued a stern warning to Charles Taylor and his government that he Sierra Leone government viewed the unprovoked aggression with the utmost seriousness, threatening hot pursuit in the unlikelihood of a repetition. What a vain threat it turned out to be because when Charles Taylor's Krahn soldiers finally launched their assault.
Daru our main garrison in the south-east didn't even have a single operational vehicle. I remember our soldiers in Pendembu and Kailahun seizing NGO vehicles that day. Those early Liberian soldiers were real animals, rough in language and in behaviour, speaking no English and very poor Krio. They stuck fear in the minds of our people by their brutal murder for no justification of two innocent civilians outside the Pendembu court barry and in full view of everyone. It was from then that their notoriety for brutality and murder spread well ahead of them. It was more than three weeks after that initial attack that we heard Foday Sankoh on the BBC focus on Africa programme that he had organized the invasion of the country in order to get rid of the cruel and corrupt APC regime.
It was also after several denials that Charles Taylor finally admitted on the BBC that he had attacked Sierra Leone in order to teach the country the bitterness of war. He had previously been refused permission to use Sierra Leone as a base to attack the Doe government of Liberia and even been detained. More grievously that we had allowed ECOMOG to use Sierra Leone soil as a base for the attack on his forces in Liberia.
The rest is history, a bitter history at that.
What was originally labeled "usual inter family fight in Kailahun" turned out to be an affair that spread from Koindu in the east to Mammy Yoko hotel in the west, from Sulima in the south to Mongo Bendugu in the north. It affected everyone with the added atrocities that accompanied the January 6 rebel invasion of Freetown.
The war brought to the fore the many sobels who had committed grave crimes against humanity.
The sad memory lingers even as we try hard to forgive.
Sadly one can see the seeds of future trouble now being sown with impunity as if people have forgotten so soon.
Stay with Sierra Express Media, for your trusted place in news!