Friday November 20, 2015

- Barely a week after the Paris attacks, Al-Quaeda-linked gunmen target a hotel in Mali, at least 20 dead. State of emergency declared as well as three days of national mourning. Three people sought.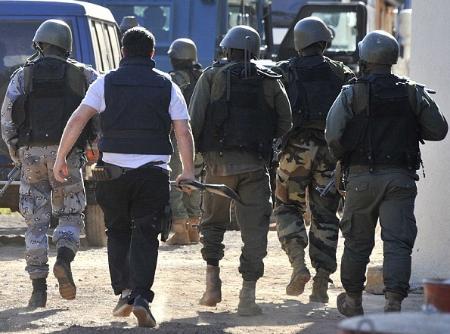 The morning of Friday November 20 would have been like any other day in the Malian capital Bamako as residents try as best as they could to make their lives worth living in a country often wracked by violence as various groups fight for one imagined prize or the other. Caught in the middle are the unarmed civilians - men, women and children whose only crime, it would seem was to be and believe in a country called Mali. All this took a different dimension in a violent twist that was as brutal as it was unexpected.
CNN, the US-based news organisation reported the unfolding violence that took many by surprise even as they contemplated and worried about the attacks in Paris.
"Heavily armed gunmen on Friday fired indiscriminately at guests at a hotel hosting diplomats and others in Mali's capital, the maître d' told CNN. At least 21 people were killed in the attack in which an al Qaeda-affiliated group is taking partial responsibility.
"These people started shooting. They were shooting at everybody without asking a single question. They were shooting at anything that moved," Tamba Couye said of the attack at the Radisson Blu Hotel in Bamako. One man did yell "Allahu akbar," said Couye, who was working in the restaurant where breakfast was underway. The attackers sounded like they were from northern Mali, he told "Erin Burnett OutFront."
Couye said an attacker chased him from the hotel but he came back later to help because his instincts told him he needed to do so to save lives. Dozens of people were trapped in the building for hours, officials in the West African nation said, before Malian and U.N. security forces launched a counterattack and rushed guests away.
Olivier Salgado, a spokesman for the United Nations peacekeeping mission in Mali, put the death toll at 21. At least six people injured in the attack have been hospitalized, Health Minister Marie Madeleine Togo told state broadcaster ORTM.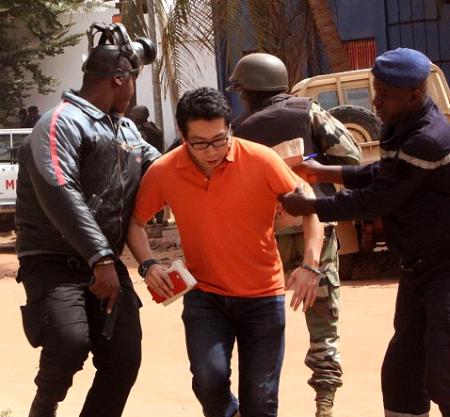 Al Mourabitoun, an Islamist militant group, claimed it was jointly responsible for the attack, according to Mauritanian news agency Al Akhbar. The group announced it carried out the attack with al Qaeda in the Islamic Maghreb (AQIM), the news agency reported. Al Mourabitoun said the attack was carried out in retaliation for government aggression in northern Mali, Al Akhbar reported.
The group also demanded the release of prisoners in France. Algerian jihadist and the leader of the group, Mokhtar Belmokhtar, is "probably" behind the attack, French Defense Minister Jean-Yves Le Drian said in an interview on France's TF1, but the French are not "entirely sure."
Belmokhtar was the target of a June U.S. airstrike in Libya. Libyan officials said he had been killed but U.S. officials never confirmed his death publicly.
Among the many international news organisations watching events unfold a week after the Paris attack was the BBC -
"Among those killed were three Chinese business executives, and China's President Xi Jinping has called the attack "cruel and savage", Reuters news agency reports. A US national was also killed, and US President Barack Obama said the attack was yet another reminder that the "scourge of terrorism" threatened many nations.
UK Foreign Secretary Philip Hammond said three Britons in the hotel were safe. President Keita said Mali would "do everything to eradicate terrorism" in the country. A 10-day state of emergency has been announced in Mali following an attack on a hotel by suspected Islamist militants in the capital, Bamako, in which gunmen killed 19 people. President Ibrahim Boubacar Keita has also declared three days of mourning. Announcing the death toll, the president said two militants had also been killed. Al-Qaeda in the Islamic Maghreb and its affiliate, al-Murabitoun, said they carried out the attack."
The Washington Post adds - "Authorities drew no direct links to last week's terrorist attacks in Paris. But Mali — home to the ancient city of Timbuktu — has been at the center of a French-backed effort to drive back Islamist rebels who once controlled large portions of the country.
Security had been reinforced in Bamako — specifically around locations popular with foreigners, including the Radisson — after the Paris attacks, Traore said. He added that the attackers entered the hotel through a side entrance, "which makes us believe that they were familiar with the hotel."
Foreigners are often targeted in Mali. Yet militants had never seized a target as prominent as the 190-room Radisson Blu, where foreign business people and diplomats are known to stay and dine. Earlier this month — before the rampage in Paris — the leader of Ansar Dine, one of Mali's main Islamist groups, released a statement encouraging attacks that would "push away the aggression of the French Crusader assailant" in the former French colony, which stretches from tropical West Africa to desert regions bordering Algeria.

A contingent of French troops is stationed in Mali, and President François Hollande on Thursday had praised the campaign against the Islamist insurgents. "France is leading this war with its armed forces, its soldiers, its courage," he said. "It must carry out this war with its allies, its partners giving us all the means available, as we did in Mali, as we are going to continue in Iraq, as we will continue in Syria."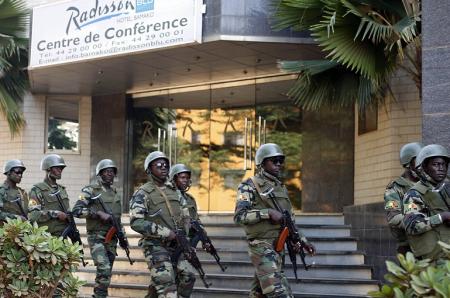 Two months ago, more than a dozen people — including five U.N. contractors — were killed in a 24-hour hostage siege at a hotel in Sevare in central Mali. Responsibility for that attack was claimed by al-Mourabitoun, led by Algerian Mokhtar Belmokhtar. Belmokhtar, an infamous one-eyed militant, had also orchestrated the bloody seizure of an Algerian gas facility in 2013 in which at least 100 workers were held hostage and dozens were killed.
The US State Department, on behalf of the Obama administration condemned Friday's attack, the taking of hostages and the murder of unarmed civilians. Reports say among the dead in Mali is a US citizen - Anita Ashok Datar.
The Times of India has this - "Anita Ashok Datar, an American aid worker of Indian-origin was among the 27 victims of the terrorist massacre in Bamako, Mali, the Obama administration confirmed on Friday, even as world powers closed ranks at the United Nations to defeat the terrorist group ISIS.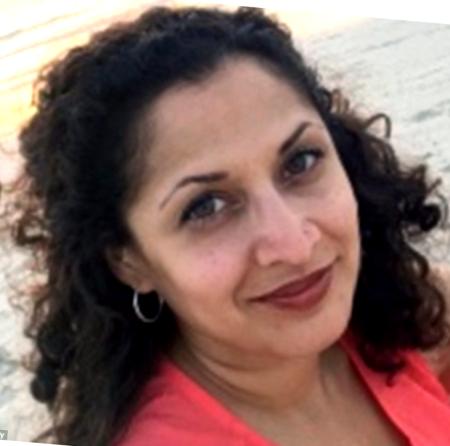 Pressed by the French in the aftermath of the Paris carnage, they voted to redouble and coordinate their efforts to prevent further terrorist horrors by the group and eradicate its safe havens straddling parts of Iraq and Syria.
Anita Datar's mother is from Mumbai, dad from Pune. But it did not matter for Datar, 41, and others who were mowed down in the attack on the Radisson Blu Hotel in distant Mali, believed to have been undertaken by Al-Mourabitoun, which is split between affiliation to al-Qaida and ISIS. If anything, the speedy ISIS-specific UN resolution, in the absence of a broader protocol on terrorism covering all groups, revealed the weight of big powers where it concerned incidents affecting them.
Datar, a senior manager at Palladium, an international development firm with offices in Washington, was in Bamako as part of her 18-year beat in global health and international development that began with a stint in the US Peace Corps in Senegal in the late 1990s.
Her work took her to countries such as Ethiopia, Kenya, Nigeria, Philippines, South Sudan, Tanzania, Zambia, Guatemala, and Guyana, Bangladesh, and even her ancestral India, many of them afflicted with poverty, violence - and terrorism.
Aid worker Anita Datar 'represented the best of America's generous spirit', says Hillary Clinton. "Everything she did in her life she did to help others - as a mother, public health expert, daughter, sister and friend. And while we are angry and saddened that she has been killed, we know that she would want to promote education and healthcare to prevent violence and poverty at home and abroad, not intolerance," her family said in a statement.
"We are devastated that Anita is gone - it's unbelievable to us that she has been killed in this senseless act of violence and terrorism. She was one of the kindest and most generous people we know. She loved her family and her work tremendously," they said, seeking privacy at this moment of grief.