Exiled Journalist Clinches Masters Degree
- Tuesday 27 November 2007.
By Our correspondent.
Erstwhile acting editor of the about to be revived 'Torch Light' newspaper, Mr Sullay Adekulay(photo) has been making remarkable progress in the field of education in the United Kingdom where he and his family had been given political sanctuary since 2001.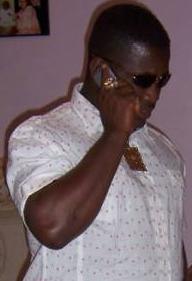 It could be recalled that Adekulay assumed the mantle of leadership of the 'Torch Light' newspaper during the reign of the infamous AFRC regime.
Like his former Editor-in-chief, Shekito, he advocated for a peaceful resolution of the imbroglio in his native Sierra Leone, a stance the recently kicked-out SLPP government interpreted to mean collaborating with the then military regime. The consequences of such a trumped-up allegation wouldhave been for him to be lynched by desperate SLPP thugs. However with the help of God Adekulay narrowly escaped the planned butchery to neighbouring Guinea and eventually made his way to the United Kingdom.
On his arrival in the United Kingdom Adekulay realised he has got an unfinished business in pursuit of academic awards. He had previously been awarded a Higher Teachers Certificate(HTC in secondary education) with Economics as his major and minor in Political Science at Milton College of Education in Sierra Leone.
In September 2003 Adekulay enrolled for a combined honours degree at the University of East London, in Education and Community Studies with Sociology; a programme he successfully completed with a 2:2 degree in June 2006.
As his hunger for academic gains became insatiable, he again re-enrolled at the same university in September 2006 to study for an MSC degree in NGO and Development Management, and on 23rd October, 2007 Adekulay was awarded an MSC degree on the aforesaid program. As if this is not enough, he is presently studying for an MSC in Social Work at London's Metropolitan University.
In his masters thesis, Adekulay conducted an extensive qualitative research on ' The Impact of Foreign Aid on Policy reform' in Sub-Saharan Africa. Using credible public domain documents from reputable institutions like the World Bank and International Monetary Fund, as well as reputable scholarly articles and journals as his source of data.
Looking at areas like Aid selectivity, good governance, technical aid and local ownership of programs, he was able to uncover that among the ten countries studied in Sub-Saharan Africa, it is only Ghana and Uganda that are successful policy reformers in the the continent. Their success like many other reformed countries in the world today, was down to local ownership of development programs.
He therefore recommended that donor countries should improve the level of local participation in development programmes in Sub-Saharan Africa in order for countries to achieve sustainable development.
However Adekulay was surprised to unearth that 55% of Sierra Leone's budget is donor dependent. An indication that the newly elected president Ernest Bai Koroma and his ministers have got a herculean task at hand in trying to reverse the trend of the economic situation in this West African nation.