Thursday July 2, 2015

- UK military personnel honoured for their fight against the Ebola Virus Disease scourge in Sierra Leone. OBE for military nurse Lt Col Alison McCourt, Commanding Officer of the Kerry Town Treatment Unit.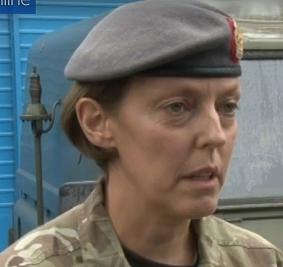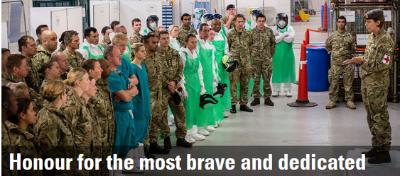 A nurse who ran an Ebola treatment unit in Sierra Leone will be awarded an OBE for her contribution to the fight against the deadly disease. According to a statement on the website of the UK Ministry of Defence -
"A female British Army officer, whose leadership of the Kerry Town Treatment Unit in Sierra Leone has been described as 'masterful', is to be recognised with an OBE in the latest Operational Honours and Awards list, it has been announced.
Lieutenant Colonel Alison McCourt, of 22 Field Hospital, based in Aldershot, was Commanding Officer of the Kerry Town Treatment Unit between October 2014 and May 2015.
Her contribution to the fight against Ebola was one of the most significant amongst the many thousands of people who came forward to help the people of Sierra Leone. Deployed at the beginning of the Ebola crisis, Lt Col McCourt, who is a nurse in QARANC*, prepared the unit for opening whilst looking forward to preparing the next tranche of clinical staff to take on the mantle of care delivery, simultaneously increasing capacity by 40 per cent.
"It was a really challenging deployment," said 45-year-old Lt Col McCourt. "It was physically and psychologically demanding, but also professionally rewarding. We've really shown the flexibility and agility of our people. We had six weeks' notice to go and do a task that was really beyond anything anybody had comprehended."
Her citation states: "McCourt oversaw the identification of the equipment required to provide care for the patients, the design of staff training, the delivery of that training and the creation of the teams that were to deliver the care."
Mum of two, Lt Col McCourt who hails from Llandrindod in Wales, was full of praise for her team saying: "Every single person I'm proud of them all every day, their bravery, their hard work. There were some long hours to get the facility up and running.
"It was a scary operation, particular at the very beginning, and not without considerable risk but incredibly rewarding. The people of Sierra Leone were so welcoming to us and so receptive and I really feel that we've contributed to setting that country on the road to recovery," she said.
The citation continues: "She has been in the vanguard of every development task. Her presence and personal touch have been everywhere. No problem has been too small to overlook, no person too insignificant to receive her full attention and the patients admitted have been received with utter professionalism and compassion instilled in the unit by McCourt.
"Her contribution to the Ebola war has been of the highest order and she thoroughly deserves public recognition."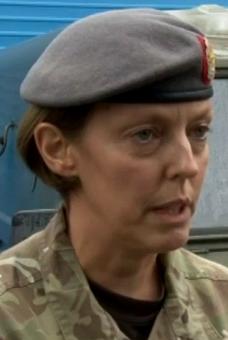 On learning of the award, Lt Col McCourt said: "It's a huge honour to be publicly recognised in this way. It's an honour not just for me but for my entire unit. The method of recognition is that not everybody can get this sort of award, but I think it's any individual who gets it, actually it's the because of the team behind them." The announcement was made today (2 July 15) with the release of the latest operational honours and awards list, which includes 55 personnel. The awards are principally for actions on Op GRITROCK in Sierra Leone and Op HERRICK in Afghanistan, and cover the period 1 July to 31 December 2014.
Another UK military personnel honoured is South Cerney-based British Army officer who forged the coalition of top international agencies in Sierra Leone during the Ebola crisis.
He receives a CBE for his 'force of character and inspired leadership'. Brigadier Stephen McMahon MBE, 104 Logistic Support Brigade, successfully established the Joint Inter-Agency Task Force Headquarters (JIATF HQ) having deployed with a small HQ at two days' notice, with minimal resources, ahead of the deployment of its DfID (Department for International Development) lead.

In his role as Joint Commander Military Component, he successfully forged almost 1000 personnel into a coherent team, building up trust that helped bond an international coalition of Sierra Leone ministries, agencies and armed forces with international volunteers, Non-Governmental Organisations (NGOs) and the UN.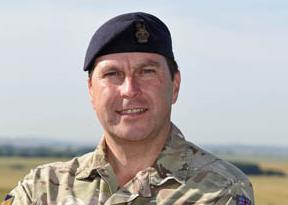 "What we saw when we arrived was a country in chaos, that was really struggling to combat this deadly virus, a difficult virus to beat. What we were able to do was bring some stability and bring some hope to the country, and what we saw was the coherent coordination of the attack against the virus."
Brigadier McMahon, 47, and his team deployed in September 2014 with a team of engineers who constructed six 100-bed Ebola hospitals and a team of medics. They joined the fight alongside infanteers, communicators, helicopter crews and the sailors on board RFA Argus.

"Ebola hasn't gone from West Africa, and I really take my hat off to all those people involved in it, particularly the NGOs, the civil servants, the people from the DfID who have done a fantastic job to combat this. We were there to help them, to try and make things easy for them." According to the MoD -
"His citation states: "With clarity of thought and the vision to look through the immediate problems and dangers, he quickly identified what needed to be done and, with calm efficiency and tireless drive, got on with it."
Sadly in the country where these brave men and women contributed in halting the murderous march of the Ebola Virus Disease, the government of the rat exposed by the report of the Audit Report on the Management of the Ebola Funds on the massive thieving campaign as over three thousand Sierra Leoneans including health workers and eleven experienced doctors perished is now busy trying to woo the international community for more funds.
Funds that would largely be converted into personal assets and open another channel for the most corrupt of practices by the rabid, uncaring anti-people cabal of unpatriotic and thieving and unrepentant rats.