Sunday June 14, 2015

- Queen's honour for UK nurse who risked life and limb in the fight against the Ebola Virus Disease scourge in Sierra Leone. Will Pooley is now MBE for his remarkable bravery and care for the people of Sierra Leone.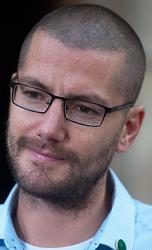 The man who risked everything including dear life to battle the Ebola Virus Disease scourge has been honoured by the Queen on her birthday list in which tributes are paid for outstanding men and women for their contribution in various fields of human endeavour.
This was a part of the brief on the BBC website -
"A British nurse who contracted Ebola last year during his work in Sierra Leone, has been recognised in the Queen's birthday honours list. Will Pooley, 30, has been made an MBE for his services in combating the disease outbreak in west Africa.
The nurse, from Suffolk, recovered fully and returned to Sierra Leone in October and is now back in the UK. There were at least nine MBEs for other nurses and about 7% of all the honours' recipients were from the health sector. Oliver Johnson, programme director for the King's Sierra Leone Partnership for whom Mr Pooley worked, was made an OBE.
Mr Pooley, from the Suffolk village of Eyke, travelled to eastern Sierra Leone in the summer of 2014 and in August, just six weeks after his arrival, became the first Briton to be evacuated from west Africa with the virus.
Mr Pooley did not want to comment on his award, but his mother Jackie told the Press Association news agency that the family was "very proud" of him and he is hoping to continue with his nursing career.
"We are very proud because he followed what he wanted to do. He followed it through even when it was uncomfortable and dangerous and he was quite aware that he was putting his life on the line," she said.
Mr Pooley had to be airlifted back to the UK for treatment for the virus. He was treated in a special isolation unit at the Royal Free Hospital in London where he was given the experimental drug ZMapp.
He told the BBC afterwards how scared he had been. It was a story of belief, frustration, dedication and a determination to all and sundry about the need for the international community to come to the rescue of a Sierra Leone that appeared helpless in the grip of a ravaging disease that was snuffing the life out of people in a most painful and horrific manner. This was the picture painted by one BBC reporter in Freetown Tulip Mazumdar.
"The British nurse who has returned to Sierra Leone after recovering from Ebola has told the BBC he is "frustrated" by the "woefully slow" international response to the outbreak. William Pooley is back at the heart of the crisis, treating patients in the capital Freetown.
It's 8am and a queue of desperate-looking people are standing outside the gates of Connaught Hospital in Freetown. The 18-bed Ebola isolation ward, run by the British-based King's Sierra Leone Partnership, has been at capacity for three months. But a bed has become free overnight after another patient, a man in his 30s, passed away.
It's one in, one out, and the medic deciding who will get a bed first today is British nurse Will Pooley.
There are four people lying in the recently erected white screening tent. Patients are assessed and then put inside the tent if they are suspected of having Ebola.
All four patients look gaunt and terrified.
One woman lies on the floor retching. She can barely keep her eyes open. This morning, however, she is the "lucky" one who will be given a bed.
Many like her have died on the floor of this tent before a space has become free. The others will have to wait. No one knows how long for, and whether they'll still be alive when the next bed becomes free.
This is the crisis Will has chosen to return to.
"It's really good to be back. I never meant to leave Sierra Leone. I didn't want to go, so being back feels like I'm back where I should be. I feel like I'm doing a worthwhile jobÖ I'm a nurse and this is where they need nurses."
Kindly recall that we closely followed this brave nurse who dared to go back to Sierra Leone after he recovered from a disease that could have killed him.
On Sunday August 24, 2014 we had this story when news broke that he had been infected.
"A UK male nurse working with Ebola-infected patients in Kenema and who got infected with the deadly virus is back in the United Kingdom after being flown on board a specially-equipped Royal Air Force (RAF) C-17 plane. The plane carrying him is reported to have touched down at about 8pm gmt at an RAF facility from where, escorted by police cars and motor bikes for ease of movement on the road was taken to a special isolation unit at the Royal Free Hospital in Hampstead Heath in London.
According to the UK-based Daily Mail, 29 year-old male nurse William Pooley, though not attached to any recognised charity took upon himself the task of getting to Sierra Leone to help out after he'd seen and heard reports of just how bad the situation was in Sierra Leone where the health delivery system appeared to be overwhelmed by the vicious and treacherous attacks of the disease.
Recall too that even as we carried various Christmas message from world leaders, we could not help but bring to you the Channel 4 Alternative Christmas Message which was delivered by William Pooley - again calling attention to the plight of the afflicted in Sierra Leone. This is what he said -
"Six weeks after starting work in Kenema government hospital I developed symptoms. I was tested and later that day I awoke to find a colleague standing over me in protective gear. He told me Iíd been infected with Ebola. In the end I was extremely fortunate. My colleagues worked night and day to get me flown back to Britain for the best available treatment at the Royal Free in London.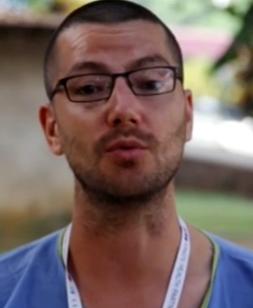 After I recovered I decided that I wanted to return to Sierra Leone and continue my work there as a nurse. My exposure to this disease reinforced the belief that when people need help itís important that itís given. I realise I was incredibly lucky, lucky to be born in a wealthy country, lucky to be well educated, lucky to have access to the best possible treatment for this awful disease.
Thousands of people here in west Africa have not had that luck. They have died often lonely, miserable deaths without access to proper medical attention. This is a good time to think about the sheer fortune of where and when we happen to be born.
If anything Christmas should focus our minds on our kinship with people in all corners of the globe. We are all brothers and sisters. Iím sure we would all help a brother or sister in need."
We join the many true Sierra Leoneans and friends of the country in congratulating William Pooley for the recognition of his work by Her Majesty the Queen.