Tuesday January 20, 2015

- The Lord is good and should be praised in all that we do. The true story of a real Ebola Virus Disease survivor is revealed in the AWOKO newspaper. The story of Juniette Ayodele Macauley is a story of faith, coping with tragedy and a revelation of the wily and dangerous nature of the disease. It's a warning that we all must be on guard and not take things for granted.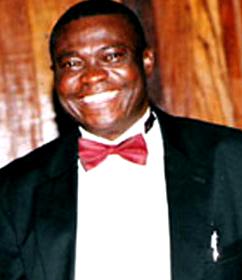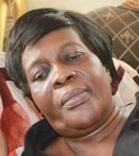 The story of Mrs Junietta Ayodele Macauley, carried on the pages of the AWOKO newspaper is a must read for all who care about our country and its people. It is a story that clearly highlights the wily, slippery and treacherous nature of the disease as it destroys the immune systems of victims, renders them helpless before clawing them from the land of the living as we know it. It is indeed a story that should be read over and over again - a tragic story with an outcome that says quite a lot about perception of the Ebola Virus Disease and how it deceives the stricken to the point of no return.
We join her as she mourns the loss of two great people in her life - her husband and son whose precious lives were taken away by the sinister and odious disease that continues to raise its deadly head like a venomous snake to strike and kill the unwary. We pray that the Good Lord in His mercy will comfort Mrs Macauley and give rest, perfect rest to the souls of her husband and son. What a loss and what a brave woman!!!
Here's an excerpt from the AWOKO pages -
Speaking to Awoko in an exclusive interview, Junietta sent a message of hope to all Ebola patients and survivors; "Keep the faith; be determined to get well; and finally stick to the treatments as provided or prescribed," she advised. Junietta Ayodele Macauley is no stranger to corpses and caskets, for donkey years now; she has been the proprietress of 'Columbia Davies funeral parlor' a lucrative business in Sierra Leone. However, the business recently experienced a financial nosedive as a result of the Ebola outbreak; and this was just a prelude as to the storm that was about to follow the Macauleys."
And here we are again reminded of what US President Obama stated of the disease - that it thrives on human love and care. "Like most, she contracted the virus from a loved one, her late husband. "It all started with my late husband- Aki Macauley, who got infected and us not knowing it was Ebola," she said. Junietta narrated, "On Tuesday 25th of November last year, my late husband and I had an appointment to go somewhere; he cancelled the appointment because he wasn't feeling too well and decided to go home and have a rest instead. When I came home that day, I found him lying half covered and he had already taken malaria medication. "He told me that he had a bit of malaria," she said.
The reaction of the late man is all too easily understood in a country where a slight increase in body temperature from the usual 98.4F is taken as a sign of a malaria attack - an endemic affliction in our country. Many would have done the same. But please continue reading.
"I was a bit puzzled when I observed that the housemaid had not served him his lunch," she explained. When I asked him, "Why hadn't he eaten his lunch, he replied, he lost his appetite and his mouth seems tasteless." "This was a bit surprising because he was okay on Tuesday morning. In fact he went jogging that morning as usual, because that's his routine- he is very particular about his health. After jogging, he usually eats fruits before having his shower and then get ready for the day's work," Junietta revealed.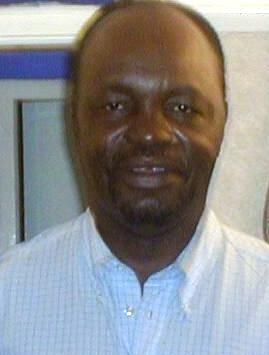 Kindly read and watch how the treacherous killer goes about its work of deceiving the victim - and kindly note that in all this, the household would not be aware that the poor man was in the grips of the beast which at that time could have been extremely busy destroying the poor man's natural resistance to such infections - destroying his immune system.
"When my husband told me he was feeling a bit ill, I thought it was nothing serious probably he'd over-jogged that morning, that's why he was feeling ill." She further said, "throughout Tuesday, he refused eating; even the light soup that was prepared for him, remained untouched." However, Junietta noted that on that same Tuesday, she used her hand to check her husband's body temperature. "I touched his forehead I observed his temperature was slightly higher than usual "but it wasn't a fever I should write home about," she ascertained. I thought it was a fever that would pass off after taking malaria medication.
So from what presented like a slight fever and wanting to reassure her husband, she actually touched her husband's sweaty and feverish forehead - something that we all do when a loved one complains of a fever. We check temperatures by feeling the body using the back of our hands as a natural thermometer. Oh yes - this is common practice. And then we have the loss of appetite. This is common with suspected malaria attacks and how many a time have we not asked for the good old and reliable "hot peppeh soup"? It always works as we recover from a suspected bout of malaria. But alas this was not malaria but the beast in deceptive mode desperate to claim the life of a victim and by extension all those who dared touch body fluids like sweat.
She went on, "the next day we went to see our family doctor, the late Dr. Willoughby. After his examination, my late husband was diagnosed with a slight increase in his blood sugar and pressure. His body temperature was 38.3, but we were not advised to test for Ebola. We never suspected it was Ebola because he had no diarrhea or nausea," she explained. "So, Dr. Willoughby referred us to Choithrams Hospital for the normal routine examination blood, stool and urine," she said.
That temperature of 38.3C is almost 101F and really something not that alarming if we have the usual fever associated with malaria. Quite a lot of Sierra Leoneans could have experienced temperatures higher that this while in the grip of a malaria attack. But then read what happens next and here we suspect that the scourge could have roped in poor Dr Victor Willoughby who could have come into contact with his patient's body fluids and all it took would be an examination that would see a sweaty body touched as well as the reassuring handshake that all would be well. That had could have been touching a sweaty hand and had the potential of transmitting the virus.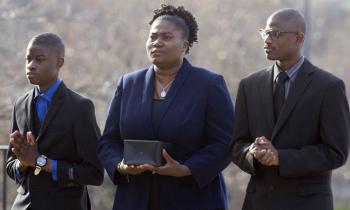 On Thursday, my husband's health condition deteriorated, his temperature was fluctuating "he did not have a permanent high temperature; nausea or diarrhea. He only lost his appetite," she revealed.
"On Friday, we went to Dr. Willoughby, where my husband was diagnosed with kidney infection. My mind was put to rest because I was thinking about doing Ebola test," she explained. "My husband who was diabetic and hypertensive was put on a 6 hourly injection after being diagnosed with kidney infection. This was his routine on Friday, Saturday and Sunday. On Sunday, Dr. Willoughby came to examine him at home, his comment was that 'the infection was serious but it will pass off,' she narrated. She went on, "on Monday my husband health condition deteriorated to a point we had to physically carry him to God's Grace hospital, at Circular Road." "On Tuesday, we took him to Len Gordon-Harris for scanning and his result shows that his liver and kidney had gone and we were advised to do Ebola test.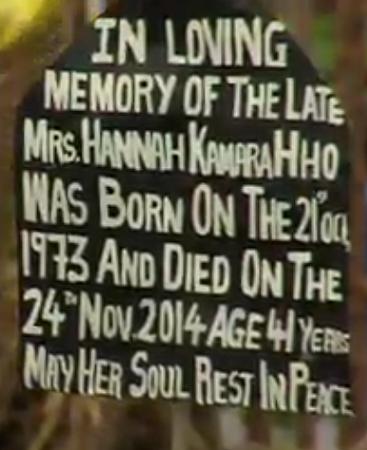 Kindly note the time lapse. The time it took for the family and doctor Willoughby to test for Ebola - a whole week, if not more - during which the treacherous beast could have been busy destroying the vital organs of the poor man - the kidney and liver.
"That same Tuesday we did the Ebola test and on Wednesday we got the result- Positive!" Junietta explained. The same Wednesday 3rd December, he was taken to 34 Military Hospital at Wilberforce and on Friday 5th December, he passed away, she said.
We are no medical experts but it would seem from this real time frame narrative, the good Dr Victor Willoughby could well have been stricken and like his patient delayed testing for the Ebola Virus Disease. Both were on the trail of the destruction being caused but not really knowing what was responsible for Mr Aki Macauley's deteriorating state of health!!!
Junietta went on - that after the death of her husband their house was quarantined with six of them in it. She continued,
"On Saturday and Sunday health workers were sent to monitor us," adding that on Tuesday, technicians at 34 hospital came to monitor them, they took their body temperature, and for one of her grandsons (Aki) body temperature was 38.5 "but the other kids said it because he was playing with the TV, so we didn't take it serious," she said. However, Aki was picked up the next day, Wednesday 10th December, and taken to 34 Hospital. She added, On Thursday, my younger son Oliver, Aki's father started feeling ill, he went to 34 Military Hospital for an Ebola test. On Friday, the result came out positive. So, he too was admitted at the 34 Hospital. On Friday, my eldest son Otto and I were tested. On Saturday, our result came out we were both diagnosed positive.
Imagine if you will - the horror visited upon the family!!!
She explained that they were both admitted at the 34 Hospital but she was later transferred to Emergency Hospital because of her physical condition.
"I'm 62 years old; I have undergone six major operations and I have been living with one kidney for 27 years now," she revealed. Junietta explained prior to being transferred to 34 hospital, Blood Plasma therapy was administered on her. She noted that her condition was very serious; I went through all the phases of Ebola
"I usually have about 18 bouts of diarrhoea during a 24- hour period. As soon as they changed the bed sheet, it soiled again. I was unable to get-up to use the toilet. However I did not vomit for long about a day and a half. She explained,
"I never lost consciousness or went into coma at any point in time during my hospitalization. I was conscious about everything that was happening though I did not know how serious my condition was," she said. On Saturday 20th December, I had ZMAPP administered. It was not at all painful, and I didn't feel any different.
Two days later, I realized that my diarrhoea had subsided. I could sit up in the bed and eat and was still conscious about everything around me. "I was only a bit confused and slow and could not pick my phones up. I just wanted to rest after fighting such a big virus", she said.
Explaining how she is feeling after the ZMAPP, she said, I observed that I was a bit slow for a week and my legs were wobbling. It was not until 'Boxing Day' 26th December that I was told my eldest son Otto had died on the 18th of December at the Military Hospital.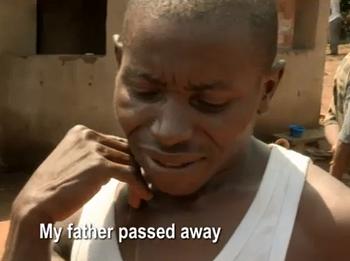 Explaining the side effect -
"My skin was a bit rumpled, dry and flaky, but it's better now. I also observed that I'm drinking a lot of water trying to recoup my once dehydrated system. Junietta Ayodele Macauley noted, "It was an ordeal that I could never forget, but one thing I must say that right through my hospitalization I knew that the Good Lord was with me. I knew that He would definitely bring me out of the pit.
I also realized when I opened my phone on Christmas Eve that I had 812 messages both Whatsapp and text message, 90% of the messages were prayers and wishes for a speedy recovery. I also realized that prayers were offered for me all over the world and for that I thank the whole world."
"Ebola is real and it is in Sierra Leone. Early diagnosis and treatment would save lots of lives. God has just saved mine!" she exclaimed.
We say let the people of God in a loud voice say - AMEN and continue praising the Good Lord for His enduring mercies. From the jaws of death, He has delivered a sister, mother, grand mother and above all a Sierra Leonean from the jaws of death. Praise the Lord. AMEN.