DAVID TAM-BARYOH ON CROSSING THE PATH OF JUNTA APOLOGIST IBRAHIM SEAGA SHAW
Remember this link in another section? This was the observation made by an international press freedom and human rights organisation, the International Freedom of Expression Exchange, IFEX. It is the sad story of how a journalist was brutalised and could have lost his life because he dared oppose Ibrahim Seaga Shaw during junta rule in 1997.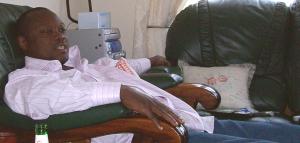 And why, you may want to ask, were such incidents ignored by the France-based Reporteurs Sans Frontieres, RSF?
Simple. The Expo Times were correspondents for this organisation and that was why this organisation was so instrumental in presenting Ibrahim Seaga Shaw as a persecuted journalist, largely ignoring how he used his position during junta rule to finger journalists for human rights abuses.
Up to this day, try asking them (RSF) about what happened in Sierra Leone after May 25, 1997 until the junta was overthrown and you are bound to come up against a wall of silence and cover-up.
David has now told his story and of how he came to flee the country as the Expo Times used junta connections to deal with perceived opponents.
It all started at a meeting of the Sierra Leone Association of Journalists, SLAJ, during junta rule in 1997. After many were forced to stop publication and their journalists went into hiding, the organisation decided to convene a meeting to tell the junta in no uncertain terms about the frightening atmosphere that had been created for journalists in which members of the profession were suppressed and brutalised.
At that meeting, held sometime in August, Ibrahim Seaga Shaw suggested that SLAJ should write a letter of support for the junta, throwing the organisation's weight behind Johnny Paul Koroma's AFRC. Members were indignant that any journalist should dare make such a suggestion at a time when everything was being done by the junta operatives to abuse and brutalise anyone thought to be critical of the junta.
The exchanges were hot and furious and at one point, David asked Ibrahim Seaga Shaw why he brought up such an idea when it was clear to everyone the excesses and massive human rights abuses of the junta. David went on to talk about just how undemocratic the junta was.
"What do you mean?", Ibrahim Seaga Shaw retorted. "You people benefited during Kabbah's SLPP reign. It is now our turn to enjoy - now that the Tejan Kabbah government has been overthrown. Do you know how difficult it has been for us until the junta came into power?"
Upon which David replied - "Ah-ha because of the looted vehicle given to you by the junta?" That silver bullet of truth hit home.
Ibrahim Seaga Shaw's reaction was instant as he lunged at David. It was a fisticuff that ended with members going between the two to separate them.
That was the end of the matter. Or so thought David.
He only knew later that things were not over when while in his bath he heard a commotion outside his house and the sounds of shots from automatic rifles. From his bathroom window, he heard the voice of one of the armed men shouting - "There is the meh....Come out...come out"
Hurriedly David came out with only a towel tied around his vital parts and pleaded with the armed men to be given an opportunity to dress. He was allowed and when he came out he saw two truckloads of armed men.
One truck was filled with Liberian-accented fighters who had joined the junta and the other was full of RUF rebels and their AFRC allies.
Outside too, was a car that had come with the two trucks and supervising the situation was Ibrahim Seaga Shaw who had made sure that the armed men were at the right house and got their man.
First reaction from David. "Has it come to this that you should get these men to come for me? Can I ride in your car?"
"Just go with them and use their vehicle.....and stop asking questions", was Ibrahim Seaga Shaw's reply.
When they got to the national library by Rokel Street, a tug of war began with the Liberian rebels wanting David to go with them so he can be locked up in a container. (Kelvin Lewis and Ojukutu-Macauley can tell you more about life in those containers). The other lot which included a police officer from the CID wanted David to be left with them. In the end David was taken to the Criminal Investigations Department, the CID.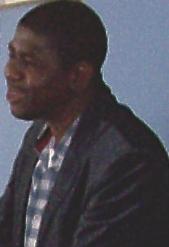 He was lucky because the then Acting Inspector-General of Police, Kandeh Bangura had instructed his man that on no account should he allow David to be taken to Cockerill. He told his man that he must tell the armed junta men that he had given instructions that David was to be processed by the police.
At the CID David was locked up in an over-filled small cell that held 29 people - six of them people suffering from some form of mental health who had been picked up in the streets.
Inside, they could hear names been called. An answer. Sounds of footsteps that go outside. Suddenly cries of terror as "watin are do" pleas and before any more, the rattle of gunfire as one more Sierra Leonean is despatched to the great beyond.
Fearing that he would suffer a similar fate, the officer in charge of the cells warned David that should his name be called during the night, he should not answer.
That could well have saved his life.
MORE LATER, MUCH MORE LATER ON THIS .........