Saturday December 12, 2015

- Historic deal on climate change is signed in Paris. Emotional scenes as nearly 200 countries put pen to a document that was as difficult to define as it was to get leading industrial and developing economies singing from the same sheet.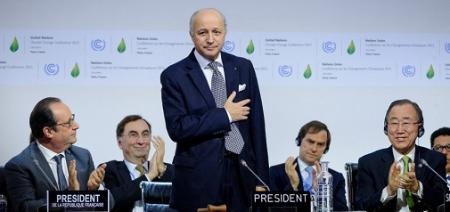 It has been described as historic - the first ever agreement on climate change that would see developed, developing and under-developed economies working together to save planet earth from the ravages of the unbridled and reckless use of its resources. It was not an easy task as could be seen from the host country's Foreign minister Fabius' plea that the debate be extended for a further twenty four hours so that the world can get a workable and practical answer to limiting the overall global temperature of Planet Earth.
The UK-based Guardian newspaper stated -
"Governments have signalled an end to the fossil fuel era, committing for the first time to a universal agreement to cut greenhouse gas emissions and to avoid the most dangerous effects of climate change. After 20 years of fraught meetings, including the past two weeks spent in an exhibition hall on the outskirts of Paris, negotiators from nearly 200 countries signed on to a legal agreement on Saturday evening that set ambitious goals to limit temperature rises and to hold governments to account for reaching those targets.
Government and business leaders said the agreement, which set a new goal to reach net zero emissions in the second half of the century, sent a powerful signal to global markets, hastening the transition away from fossil fuels and to a clean energy economy. The deal was carefully constructed to carry legal force but without requiring approval by the US Congress - which would have almost certainly rejected it.
After last-minute delays, caused by typos, mistranslations and disagreements over a single verb in the highly complicated legal text, Laurent Fabius, the French foreign minister, brought down a special leaf-shaped gavel to adopt the agreement. The hall erupted in applause and cheers. "It is a small gavel but I think it can do a great job," Fabius said.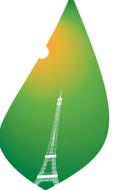 François Hollande, the French president, who had invested enormous capital and diplomatic effort in shepherding the agreement, said countries had a rare chance to make history. "We are at a decisive point in time," he said. Fabius said: "It is my deep conviction that we have come up with an ambitious and balanced agreement. Today it is a moment of truth."
The US president, Barack Obama, hailed the agreement as "a tribute to strong, principled American leadership" and a vital step in ensuring the future of the planet. Al Gore, the former US vice-president who helped draft the 1997 Kyoto climate treaty, was in the hall. He appeared visibly moved when the agreement was gavelled in and said the accord would have a powerful effect on the economy. "This universal and ambitious agreement sends a clear signal to governments, businesses, and investors everywhere: the transformation of our global economy from one fuelled by dirty energy to one fuelled by sustainable economic growth is now firmly and inevitably underway," Gore said in a statement.

Six years after the chaotic ending of the Copenhagen climate summit, the agreement now known as the Paris Agreement for the first time commits rich countries, rising economies and some of the poorest countries to work together to curb emissions.
Rich countries agreed to raise $100bn (£66bn) a year by 2020 to help poor countries transform their economies. The overall agreement is legally binding, but some elements – including the pledges to curb emissions by individual countries and the climate finance elements – are not.
The deal was also hailed for delivering a clear message to business leaders. The International Investors Group on Climate Change, a network managing €13tn of assets, said the decision would help trigger a shift away from fossil fuels and encourage greater investments in renewable energy.
Saturday's agreement was the product of years of preparation, two weeks of intense negotiations, capped off by three sleepless nights, with Barack Obama and Hollande phoning other leaders to bring them on side with the deal.
Accounts from behind the closed doors of negotiating session described tense exchanges between oil-producing countries, such as Saudi Arabia and Russia, and a rapidly constituted US- and Europe-backed High Ambition Coalition, which kept up the pressure for a strong temperature goal and regular reviews of emission-cutting plans.
The universal nature of the agreement was a radical departure from the Kyoto Protocol, the 1997 agreement that drew sharp divisions between the obligations of wealthy and developing countries but ultimately failed to lower emissions. Unlike Kyoto, the agreement reached on Saturday depends on political will, with countries setting their own climate action plans."
The US-based Washington Post also painted this picture of what arguably is a rare form of agreement with so many countries trying to protect their national interests. The developed countries not perceived as willing to cut emissions while the developing and new industrialised countries using quite a huge amount of fossil fuels wanted to be allowed to use as much as they could to catch up with their developed counterparts. It was a difficult situation, but in the end a deal was reached and the hard task ahead now is the implementation.
"The agreement, adopted after 13 days of intense bargaining in a Paris suburb, puts the world's nations on a course that could fundamentally change the way energy is produced and consumed, gradually reducing reliance on fossil fuels in favor of cleaner forms of energy.
"History will remember this day," U.N. Secretary-General Ban Ki-moon said after the pact was gaveled through to thunderous applause. "The Paris agreement on climate change is a monumental success for the planet and its people."
The deal was struck in a rare show of near-universal accord, as poor and wealthy nations from across the political and geographic spectrum expressed support for measures that require all to take steps to battle climate change. The agreement binds together pledges by individual nations to cut or limit emissions from fossil-fuel burning, within a framework of rules that provide for monitoring and verification as well as financial and technical assistance for developing countries. The overarching goal is to bring down pollution levels so that the rise in global temperatures is limited to no more than 2 degrees Celsius (3.6 degrees Fahrenheit) above pre-industrial averages.
Delegates added language that expressed an ambition to restrict the temperature increase even further, to 1.5 degrees C, if possible. "This is a tremendous victory for all of our citizens–not for any one country or bloc, but a victory for all of the planet, and for future generations," Secretary of State John F. Kerry said after the accord was announced. "The world has come together behind an agreement that will empower us to chart a new path for our planet: a smart and responsible path, a sustainable path."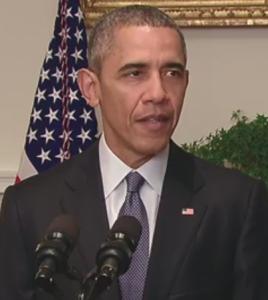 The accord is the first to call on all nations—rich and poor—to take action to limit emissions of carbon dioxide and other greenhouse gases, with additional reviews required every five years to encourage even deeper pollution cuts. A major goal, officials said, is to spur governments and private industry to rapidly develop new technologies to help solve the climate challenge.
"Markets now have the clear signal to unleash the full force of human ingenuity," said Ban Ki-moon, who praised the pact as "ambitious, credible, flexible and durable." "The work starts tomorrow," he said.
International broadcaster, the BBC reminded its audience of what all this means.
"The measures in the agreement included:

• To peak greenhouse gas emissions as soon as possible and achieve a balance between sources and sinks of greenhouse gases in the second half of this century.
• To keep global temperature increase "well below" 2C (3.6F) and to pursue efforts to limit it to 1.5C.
• To review progress every five years.
• $100 billion a year in climate finance for developing countries by 2020, with a commitment to further finance in the future.
It reminds us that despite the euphoria surrounding the signing of the Paris Agreement, there were questions to be answered.
"Nick Dearden, director of campaign group Global Justice Now, said:
"It's outrageous that the deal that's on the table is being spun as a success when it undermines the rights of the world's most vulnerable communities and has almost nothing binding to ensure a safe and liveable climate for future generations."
Some aspects of the agreement will be legally binding, such as submitting an emissions reduction target and the regular review of that goal. However, the targets set by nations will not be binding under the deal struck in Paris.
Observers say the attempt to impose emissions targets on countries was one of the main reasons why the Copenhagen talks in 2009 failed. At the time, nations including China, India and South Africa were unwilling to sign up to a condition that they felt could hamper economic growth and development.
The latest negotiations managed to avoid such an impasse by developing a system of Intended Nationally Determined Contributions (INDCs).
An assessment published during the two-week talks suggested that the emission reductions currently outlined in the INDCs submitted by countries would only limit global temperature rise by 2.7C.
Nick Mabey, chief executive of climate diplomacy organisation E3G, said the agreement was an ambitious one that would require serious political commitment to deliver. "Paris means governments will go further and faster to tackle climate change than ever before," he said. "The transition to a low carbon economy is now unstoppable, ensuring the end of the fossil fuel age."
US President Barack Obama paid special tribute, not only to US personnel at the Paris Climate Change meeting, but to all those who helped bring about the agreement.
"Now, no agreement is perfect, including this one. Negotiations that involve nearly 200 nations are always challenging. Even if all the initial targets set in Paris are met, we'll only be part of the way there when it comes to reducing carbon from the atmosphere. So we cannot be complacent because of today's agreement.
The problem is not solved because of this accord. But make no mistake, the Paris agreement establishes the enduring framework the world needs to solve the climate crisis. It creates the mechanism, the architecture, for us to continually tackle this problem in an effective way.
This agreement is ambitious, with every nation setting and committing to their own specific targets, even as we take into account differences among nations. We'll have a strong system of transparency, including periodic reviews and independent assessments, to help hold every country accountable for meeting its commitments.
As technology advances, this agreement allows progress to pave the way for even more ambitious targets over time. And we have secured a broader commitment to support the most vulnerable countries as they pursue cleaner economic growth. In short, this agreement will mean less of the carbon pollution that threatens our planet, and more of the jobs and economic growth driven by low-carbon investment.
Full implementation of this agreement will help delay or avoid some of the worst consequences of climate change, and will pave the way for even more progress, in successive stages, over the coming years.
Moreover, this agreement sends a powerful signal that the world is firmly committed to a low-carbon future. And that has the potential to unleash investment and innovation in clean energy at a scale we have never seen before. The targets we've set are bold. And by empowering businesses, scientists, engineers, workers, and the private sector -- investors -- to work together, this agreement represents the best chance we've had to save the one planet that we've got."