Wednesday October 12, 2011

- The truth is finally out. Now we know why the high priest at the altar of falsehood, profanities and indecency dedicated to the smoke and mirrors President expunged those articles from his web site reaffirming once more that for a few dollars more he would be willing to lie on oath in order to earn his supper. And this from a so-called man of the cloth who has been caught out more often than not - lying to his face and feeling good about it.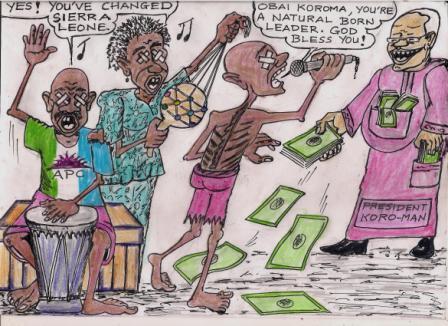 We now know why those articles were expunged from the web site of the high priest who thinks nothing of lying through his teeth to please his masters at State House in Freetown. Remember what he wrote about the Bo incident in which one man was reported killed by the police, some structures belonging to the APC ruling party torched and the flag bearer of the main opposition SLPP Brigadier (Rtd) Julius Maada Bio got hurt? The pro-APC, pro_Ernest Bai Koroma publications had a field day with each tabloid trying to outdo the other in presenting a feel-good article that would be pleasing to their paymaster/s at State House. It was a time to write articles pleasing to their handlers at State House. And please recall too that when the President ordered an investigation, we pleaded that no comment be made that would somehow appear to blame anyone? This piece of advice given in good faith was ignored and just to please his master, his mammon at State House the high priest at the altar of lies, falsehood and profanities dedicated to his god ernest bai koroma published articles blaming people left, right and centre as well as here, there and everywhere and even going as far as to suggest that there was no one at the APC party office in Bo on that day? Well we now have a copy of that report and we can state here that the reason why those articles were expunged was because the report showed that what had been published, as usual was a big and deliberate lie aimed at keeping his master happy. And pleasing his master we doubt very much because we know that there are good and honest people at State House, real professional journalists and civil servants who would always frown on anyone who on one hand gloats about a diplomatic appointment while on the other becoming the chief fabricator and purveyor of lies, more lies and damned lies.
Below are some of the headlines, the articles of which were expunged and for which action we demanded an explanation. None was forthcoming, none was expected. That is what happens when you, as we say "broke congosah" on the gossiping liar's head.
Reports : SLPP rally in Bo was unlawful and unauthorized and was recipe for chaos orchestrated by Maada Bio, John Benjamin and Abbass Bundu
Journalist says the chaos in Bo was well-planned by the SLPP
Where is the blood ? The biggest hoax since 'Janet Bundle' ?
Exclusive : How Maada Bio got hurt in Bo
EXCLUSIVE : More ringleaders of the Bo disturbances named, as SLPP forms clandestine organization to drive out all APC supporters
Among the key findings of the report after investigating the Bo incident was
1. The SLPP thank you rally was legal.
2. That Rtd Brigadier Julius Maada Bio was indeed wounded during the attack.
3. That the APC Office was occupied by APC supporters on the day of the attack and that even before then preparations had been made to attack the Maada Bio march in Bo with instructions given to women allied to the APC to collect stones.
4. Stoning was started by APC supporters from their party office.
5. The SLPP supporters attacked and torched structures of the APC.
6. One bike rider was shot and killed by a named policeman who still remains free.
We will now bring you most of the expunged articles so that you can see further proof of the devious methods of a compulsive liar and we daresay the typical "kongosah bench" carrier.
---