Friday September 11, 2015

- The United States and the world remember this day as 14 years ago, terror from the most unexpected quarter hit the United States. The true figures of death and injury still not that certain. President Obama makes a Declaration. September 9 would now be observed in the US as Patriot Day and National Day of Service and Remembrance.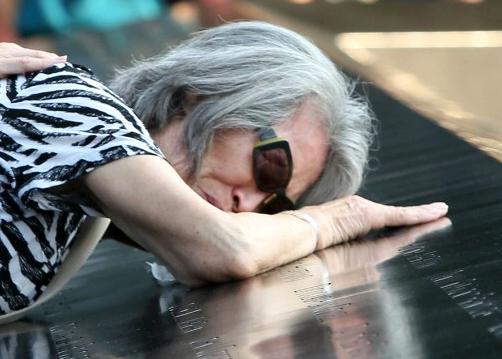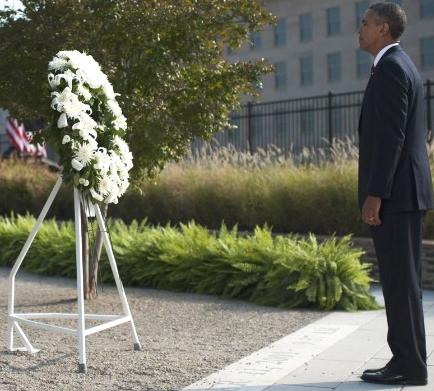 US President Barack Obama has today made a declaration that honours the memory of all those who perished and those still living with the trauma of either having lost a loved one or have to live with the resultant trauma of that Tuesday attack 14 years ago. In making the Declaration the US President stated, among other things -
"On September 11, 2001, America experienced the worst terrorist attack in her history when nearly 3,000 men, women, and children were taken from us, leaving their families and our Nation with a void that can never be filled. But those who brought hate to our shores and smoke to our skies did not expect our country to emerge stronger, and our beacons of hope and freedom to shine brighter as a result.
In the years since, we have stood strong as one people ‑‑ determined to further embolden our country's character with acts of endurance and strength; rebuilding and resilience; renewal and progress. In remembrance of the innocent victims who lost their lives and in honor of the families they left behind, let us continue to answer these heinous acts by serving our communities, lifting the lives of our fellow citizens, and spreading the hope that others tried to dim that day.

The compassion that rose in the hearts and minds of the American people on September 11 still serves as the ultimate rebuke to the evil of those who attacked us. First responders who risked and gave their lives to rescue others demonstrated the unwavering heroism that defines our great Nation.
Volunteers donated time, money, and blood to ensure wounds gave way to healing and recovery. Young people, raised until then in a time of peace, stepped forward to serve and defend us, and meet the threats of our time. And people from across our country and the world joined together in the days that followed to stand up and turn toward one another with open arms, making of a tragedy something the terrorists could never abide ‑‑ a tribute of hope over fear, and love over hate.
Today, we continue our unfaltering march forward, enduring in the perennial optimism that drives us and brightening the light that the darkness of evil can never overcome.
We remember and yearn for the presence of the beautiful lives lost, and we recommit to honoring their memories by shaping the days to come ‑‑ in as stark a contrast as possible to those who took them from us ‑‑ with courage, liberty, and love.

By a joint resolution approved December 18, 2001 (Public Law 107-89), the Congress has designated September 11 of each year as "Patriot Day," and by Public Law 111-13, approved April 21, 2009, the Congress has requested the observance of September 11 as an annually recognized "National Day of Service and Remembrance."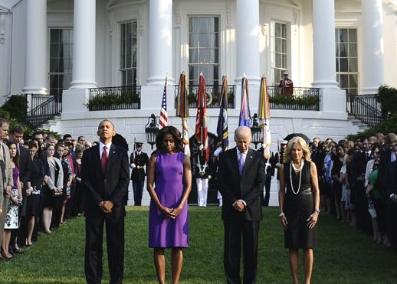 NOW, THEREFORE, I, BARACK OBAMA, President of the United States of America, do hereby proclaim September 11, 2015, as Patriot Day and National Day of Service and Remembrance.
I call upon all departments, agencies, and instrumentalities of the United States to display the flag of the United States at half-staff on Patriot Day and National Day of Service and Remembrance in honor of the individuals who lost their lives on September 11, 2001."
US Secretary of State John Kerry has this reminder -
"September 11 is a date seared into the minds of all of us at the U.S. Department of State and of citizens across America.
Together, we honor the memory of the men, women, and children murdered in 2001. And we will never forget those who died three years ago in Libya: Ambassador Chris Stevens, Sean Smith, Glen Doherty, and Tyrone Woods.
Each was a brave and dedicated professional; each was deeply committed to service on our country's behalf; and each sought nothing more nor less than to help people overseas to live in freedom, dignity, and peace. Their example remains before us and – on this sad anniversary – our thoughts and prayers are with their families.

This week also marks the opening to the public of the Flight 93 National Memorial in Somerset, Pennsylvania. The selfless heroism of the passengers on that flight saved many lives and serves as a permanent inspiration never to accept evil or to allow those driven by hate to achieve their goals. For that reason, there is no better day than September 11 to continue fulfilling our responsibilities in the home, workplace, classroom, and community.
There is also no better time to move ahead with the business of American diplomacy – the unrelenting pursuit of peace, prosperity, human rights, and security in all its dimensions.
Friends and adversaries alike should understand: the United States will never be intimidated by terrorists. Terrorists can cause tremendous suffering, but they can neither weaken our determination nor sway us from our purpose.
For Americans at home and overseas, shared tragedy brings us together, adds to our vigilance, and strengthens our resolve not only on September 11, but every day of the year.
International media outlets have been reporting on today's anniversary. CNN had this reminder on its pages -
"With his head bowed during a moment of silence outside the White House, President Barack Obama set the tone Friday for a nation marking a dark day with solemn ceremonies.
Fourteen years ago Friday, terrorists hijacked four passenger planes and smashed two into New York's World Trade Center. A third jetliner rammed into the Pentagon outside Washington while a fourth one crash-landed on an empty field in Pennsylvania.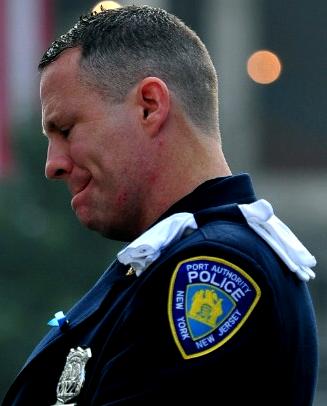 By the time the carnage was over, the hijackers had killed 2,977 people in the deadliest terrorist attack on American soil. People, buildings and planes fell from the sky.
Terrified strangers became friends as Americans united on a day that changed the world forever.
At the site of the World Trade Center, where most of the victims were, bagpipers and drummers provided solemn tunes to accompany an hours-long ceremony.
Relatives of those who died stood at podiums at the National September 11 Memorial plaza, reading the names of victims. Each speaker read a block of names before ending with their own loved one, adding a few words of remembrance for their lost sibling, child, parent or cousin. Moments of silence were observed at the specific times when the planes struck and the buildings fell.

The first plane hit the north tower at 8:46 a.m.
The second one struck at 9:03 a.m. In this attack, 2,753 people died when terrorists intentionally crashed American Airlines Flight 11 and United Airlines Flight 175 into the north and south towers, respectively. More than 300 firefighters were among those who perished in the attacks and the collapse of the towers. Dozens more were police officers.

Hundreds of miles away, a passenger jetliner crashed near Shanksville, Pennsylvania, at 10:03 a.m. Crowds there marked a moment of silence at that exact time and read out the names of the victims. Forty passengers and crew members aboard United Airlines Flight 93 died when the plane crashed into the field. It is believed that the hijackers crashed the plane in that location, rather than their unknown target, after passengers and the crew attempted to retake control.

At the Pentagon, 184 people died when hijacked American Airlines Flight 77 crashed into the building at 9:37 a.m. Shortly after 9:30 a.m. Friday, a ceremony began at the Pentagon Memorial, attended by relatives of the victims. It included wreath laying and remarks by Defense Secretary Ash Carter.
At the White House, the President and first lady Michelle Obama stepped onto the South Lawn for a minute of silence at 8:46 a.m. -- the time the first jet hit the World Trade Center.
Obama made no comment at that observance, but he later visited Fort Meade in Maryland, where he talked with troops and expressed his appreciation."

"The President very much values face time with troops -- listening, asking and answering questions, and he looks forward to taking time on the anniversary of 9/11 to engage directly with service members," Pentagon spokesman Peter Cook said. Outside the Justice Department headquarters in Washington, a crew planted a pear tree -- an offspring of one at the World Trade Center plaza that survived the buildings' fall.
The original tree stands at the 9/11 memorial in New York.
The tree is a reminder that "we can endure, we can prevail, and we, too, can bloom again," Attorney General Loretta Lynch said at the ceremony.
Another world-respected international broadcaster, the BBC, noted -
"Two moments of silence have been held in New York at the exact time 14 years ago that the two planes struck the towers of the World Trade Center.
Vice President Joe Biden delivered remarks at a memorial event in New York along with New York Governor Andrew Cuomo and American singer Billy Joel.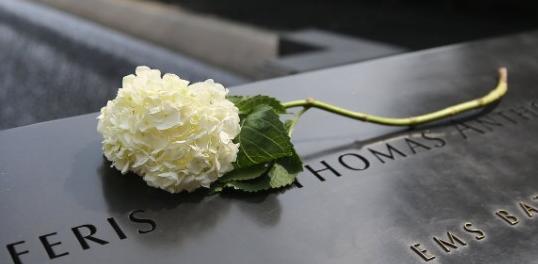 The president met members of the armed forces at Fort Meade in Maryland and had a long discussion including discussing where he was during the attacks.
His daughter Sasha had just been born and his older daughter Malia was starting school for the year.
"It gave you a sense for the first time, in my lifetime, that our homeland could be vulnerable," Mr Obama said.
"We hadn't seen an attack like that since Pearl Harbor.
"Mr Obama thanked troops for their service and said being commander-in-chief is his greatest honour.
Mr Obama was a state senator in Illinois on 11 September 2001. He heard reports on the radio while in the car on the way to a meeting in downtown Chicago and did not know how serious it was until he arrived.
"We have to remember how precious what we have is and defend it at any cost," he said.